Black Rebel Motorcycle Club at Virgin Mobile Festival (08/10/08)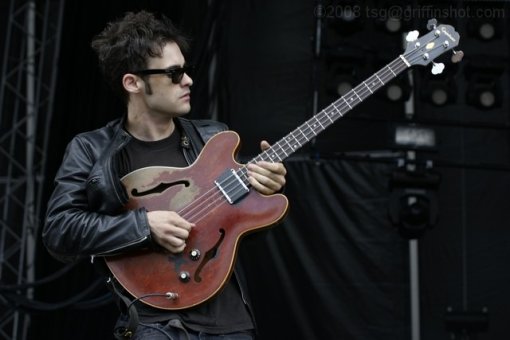 Photo: Tim Griffin
Black Rebel Motorcycle Club have been on hiatus for a little while, but that's all about to change with the release of a new concert DVD and CD simply entitled, Live. The 2-DVD/1-CD set will be out on November 10, 2009, and features live footage from their late 2007 tour in Berlin, Glasgow and Dublin. The band is currently busy putting the finishing touches on their fifth studio album, which is scheduled for a March 2010 release date. Here's what BRMC's Robert Levon Been told Billboard about the new studio album:
"We just started writing endlessly, and it kind of took off like a bullet," Been says of the new material. We were writing on the road, at sound checks and whatnot. It came out really kind of spooky easy. We tracked, like, 23 or 24 (songs); right now we're pulling our hair out trying to get down to 13 or 14. It's a high-class problem to have, though. I ain't complaining." [Billboard.com]
More previously unreleased pictures of Black Rebel Motorcycle Club from the 2008 Virgin Mobile Festival after the jump.