Think About Life at Arlene's Grocery | "M for Montreal" Showcase at CMJ (10/21/09)

Malajube at Arlene's Grocery | "M for Montreal" Showcase at CMJ (10/21/09)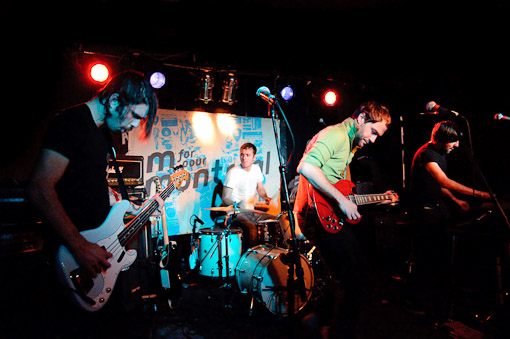 Photos: Jon Klemm
M for Montreal 2009 Schedule (Nov 19-21, 2009)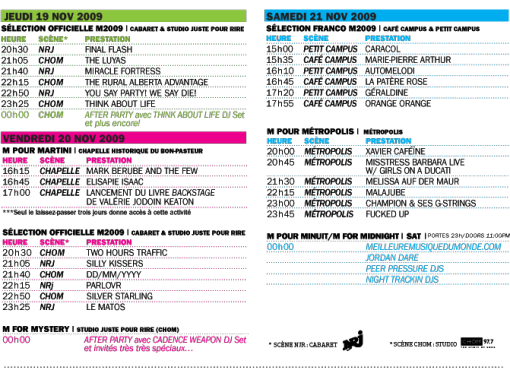 Beast, Malajube and Think About Life were three of the bands I caught at the M for Montreal Showcase at CMJ '09 (Oct 21) and two of them will be playing the full on M for Montreal Festival which starts this week (Nov 19-21, 2009) in Montreal, Quebec. Here are some of my thoughts on that night:
Even though they went on a little early, Beast put on highly energized set for the small but attentive crowd at Arlene's and in the end, they won me over as a fan of their live show (I'm gonna go back and revisit the record now). Think About Life took the stage after Beast and they whipped the full capacity room into a frenzy with their electrified dance tunes. Personally, I think it was probably the most unexpected and enjoyable set I witnessed at CMJ this year. After leaving the club for We Are Wolves, I came back to Arlene's for Malajube, probably the biggest Francophone indie rock act to cross-over into the US market. After heavily imbibing in their 2006 debut Trompe-L'oeil over the years, I was pretty excited to finally see these guys live and in person. Unfortunately, I'm not sure if it was my high expectations or the band being a bit off, but their performance seemed a little underwhelming to me that night (especially compared to TAL who had torn the place up earlier). Their guitars seemed washed out in the mix, and my favorite riff from the beginning of "Montreal -40" seemed to lack any of the bite that it has on the album. Since it was CMJ, I'll give them a pass this time because you never know what head space a band is in during the marathon, a lot of times bands are dealing with multiple shows and no sound-check situations, so things can be hit and miss. I'll be sure to try and check out Malajube next time they headline a "proper show" somewhere in NYC before I pass final judgment.
Full press release for M for Montreal 2009 plus more Think About Life and Malajube pics after the jump.
Think About Life at Arlene's Grocery (10/21/09)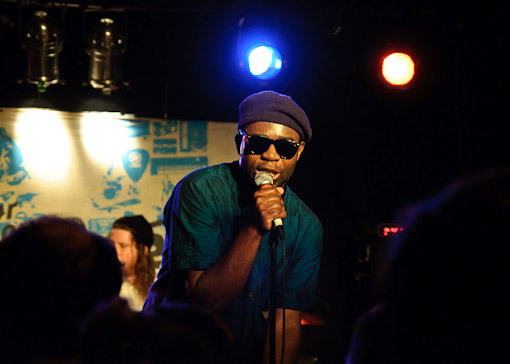 Malajube at Arlene's Grocery (10/21/09)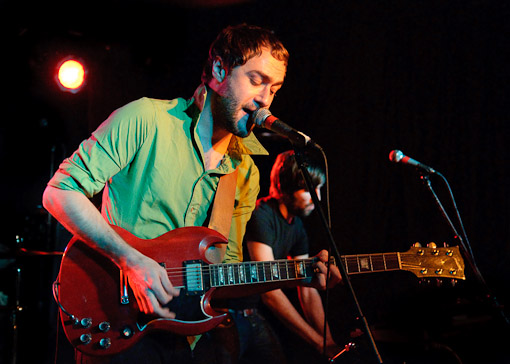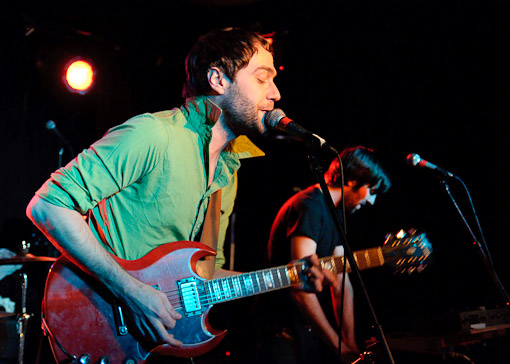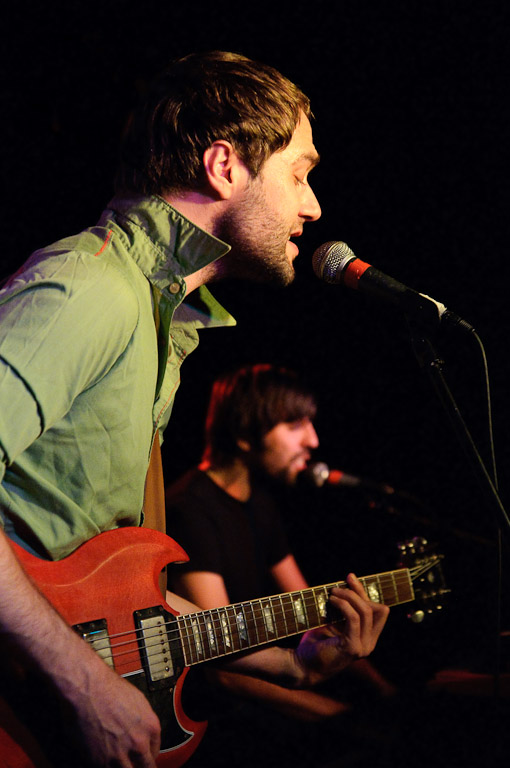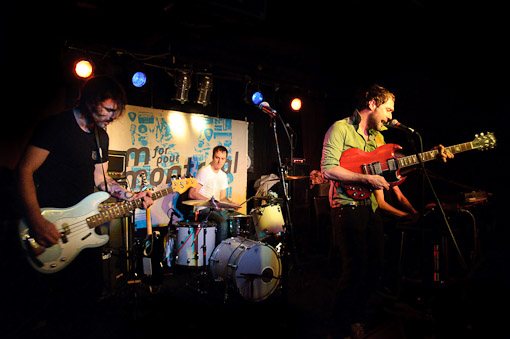 M for Montreal unveils the line-up for its 4th edition
Tickets on sale tomorrow, Wednesday, at 3:00PM

Montreal, Tuesday, October 20th, 2009 – 2009 was the year that M for Montreal established its reputation as a promoter of exportable networking showcases, including the mini-M nights, where 500 to 700 people came out to discover up and coming artists every month at Foufounes Électriques and the M on the Quays outdoor festival, which brought out more than 10,000 curious music fans to the Quays of the Old-Port over the Labour Day weekend. On the other hand, the M on the road showcases attracted a large number of international delegates at festivals abroad (South by Southwest in Austin, Texas, The Great Escape in Brighton, United Kingdom, and the next one will be a part of the CMJ Music Marathon in downtown New York), a nomination for Event of the Year at the next ADISQ awards… M for Montreal will close off the year – which was filled with wonderful encounters and unexpected success – with its big showcase event, happening November 19th to 21st. The fourth edition is presented by Astral Media and will offer still more opportunities for the public and international delegates to discover the best artists out of Montreal and the rest of Canada that are the most likely to represent us on the international scene next year. We've also afforded the bands maximum visibility by making sure that none of the shows overlap!

Astral Media, a partner for the next three years

M for Montreal president founder and artistic director, Mr. Sébastien Nasra, is proud to officially announce that Astral Media will be the new main presenter of M for Montreal for the next three years. "Given that Astral Media had already co-presented the event last year, this partnership arrived at an opportune time, as it allowed for M for Montreal to keep existing, even though our event had seen itself threatened in early 2009 by the drastic cuts made by the Harper government into programs that help fund our cultural exports," explains Mr. Nasra. "This is a perfect partnership for an event like us, which is focused on the quality of the music we promote. We couldn't have found a better partner and we are proud of this new synergy."

"Astral Media Radio is a strong supporter of up and coming Canadian musicians and we see M for Montreal as a great vehicle for achieving international recognition for our new acts," adds Mr. Rob Braide from Astral Media Radio. "Touring has become such a vital part of an artist's ability to make a living, and M for Montreal offers a vital showcase for the international community as well as a window to the world for the bands that will perform this week. Here's to another amazing year of music and a great party!"

M for Montreal would also like to mention the participation of its other important partners: NRJ, CHOM, SIRIUS Satellite Radio Canada, Exclaim!, NIGHTLIFE Magazine, MusiquePlus, CISM, Gigwise, The Fly, Avalanche Productions, Opus Hotel Montreal, Apartments Hotel Trylon, Solotech, Joli-Coeur Lacasse Avocats, NEON, HIGH FOOD, Molson, the Society of Composers, Authors and Music Publishers of Canada (SOCAN), The Foundation Assisting Canadian Talent on Recordings (FACTOR), Government of Canada, Radio Starmaker Fund, MUSICACTION, the Ministère de la Culture, des Communications et de la Condition féminine and the Société de développement des entreprises culturelles (SODEC).

Three showcases destined to impress the delegates and the public

Seventeen (17) Montreal and Canadian bands were selected this year for the M for Montreal's fourth edition. Presented by Exclaim!, the official selection on Thursday, November 19th will feature the decadent music of Think About Life, Miracle Fortress, You Say Party! We Say Die!, The Rural Alberta Advantage, The Luyas and Final Flash on the NRJ and CHOM stages at the Cabaret and Studio Juste pour rire (2109-2111 Saint-Laurent boulevard), as of 8:30PM. The pattern will be repeated the next day, November 20th, at the same venues, this time with Silly Kissers, Parlovr, Le Matos, Two Hours Traffic, DD/MM/YYYY and Silver Starling.

Finally, M for Montreal will be closing its series of showcases with an exclusively French afternoon, Saturday, November 21st, as of 3:00PM, at Café Campus and Petit Campus (57 Prince-Arthur street East). Delegates and the public will have the chance to appreciate performances by La patère rose, Géraldine, Marie-Pierre Arthur, Orange Orange and Caracol at this showcase presented by SIRIUS Satellite Radio Canada. "SIRIUS is excited to be associated with M for Montreal for a third year in a row and to support the talented local francophone artists," said Andreanne Sasseville, Director of Canadian Content Development and Industry Relations, SIRIUS Canada inc. "SIRIUS and M for Montreal share the same will to encourage the talented Quebec artists and have a real passion for music. This association was a must!"

An M for Martini cocktail party that's open to the public

Previously for delegates only, this year M for Montreal will open its doors to holders of three-days passes for its M for Martini cocktail. The Inuk artist, Elisapie Isaac, whose album, There Will Be Stars, was praised by the critics, and Mark Berube and The Few will ignite the intimacy of the eXcentris with their latest folk compositions, Friday, November 20th, as of 4:00PM. The cocktail party will also feature photographer Valérie Jodoin Keaton (ex-The Dears), who will share the occasion to release her book, Backstage, a collection of photographs of local and international artists getting prepared a few minutes before their performance, or when they've just left the stage.

An eclectic M for Metropolis closing event

M for Montreal's fourth edition will end Saturday, November 21st, at 8:00PM with the comeback of its M for Metropolis closing event. The Toronto hardcore band Fucked Up, winner of the 2009 Polaris Music Prize for its album, The Chemistry of Common Life, will have the honour of headlining this high energy show. The Metropolis stage will also shake under the heavy decibels of Champion & his G-Strings, who is currently one of the best-selling artists in Quebec, thanks to his new album, Resistance; Malajube, who just won the Indie Rock Album of the Year prize for Labyrinthes at the Quebec Indie Music Awards (GAMIQ); the big return of singer-bassist, Melissa Auf der Maur, who will soon release her second solo album; and the international DJ-turned-singer, Misstress Barbara, with her band Girls On A Ducati.

An all-electro M for Midnight after party at the SAT

For those who have some energy left over after three frenzied days of music and the M for Metropolis closing event, M for Montreal is organizing an after party on Saturday, November 21st, as of 11:00PM, which promises to be worthy of the craziest urban nightlife events in Montreal. Presented by NIGHTLIFE Magazine, in collaboration with NEON and HIGH FOOD, at the Society for Arts and Technology (SAT), the night, known as M for Midnight, has a lot of surprises in store with Meilleuremusiquedumonde.com, Jordan Dare, Peer Pressure DJs A-Rock & Hatchmatik and Seb Diamond & Phil AD (from Night Trackin').

Two panels with an international flavour

M for Montreal is expanding again this year with two panels scheduled to be held Friday, November 20th, at the Foyer Godin of the Opus Hotel Montreal, and hosted by journalist Patrick Baillargeon. The first panel (11:00AM to 12:30PM) will draw a portrait of the German Music Industry. Germany is a European country that can't be ignored when it comes to touring abroad and it has a lot of similarities with Canada. In order to shed some light on this mysterious market, M for Montreal has invited Mr. Klaus Bönisch, KBK Konzert's booker/concert promoter, Mr. Thomas Müller, Motor Radio's co-founder, Mr. Daniel Pieper, consultant in artist management as part of his own company, Starfish Music Management, Mr. Stefan Reichmann, Haldern Pop Festival programmer, and Mr. Reinhard Bärenz, journalist for Radio Sputnik.

The second panel (2:00PM to 3:30PM) will focus on the role of the producer during the recording of an album and the importance of this role in regards to the end result of a song. M for Montreal has invited these producers to talk about their work: Andy Gill (Red Hot Chili Peppers' first album, Futureheads' self-titled album), Valgeir Sigurdsson (Camille's Music Hole, Bonnie "Prince" Billy's The Letting Go, Björk's Medúlla and Vespertine), Arthur Baker (Afrika Bambaataa's Planet Rock, New Order's Confusion and Thieves Like Us), Greg Haver (Super Furry Animals' Mwng, Manic Street Preachers' Lifeblood) and the Montreal Howard Bilerman (Arcade Fire's Funeral, Bell Orchestre's Recording a Tape the Colour of the Light). Mr. Stephen Budd, founder of Stephen Budd Management, an agency that specializes in producer management, will also be part of the panel.

An interesting international delegation

More than 60 international delegates – festival music programmers, journalists, venue bookers, label A&R, music supervisors, etc., from the United Kingdom, United States, Germany, France, Spain, Switzerland, Belgium, the Netherlands and Australia, will attend the 4th edition of M for Montreal. Martin Elbourne (programmer, Glastonbury Festival, and co-founder, The Great Escape, United Kingdom), Tom Windish (founder, Tom Windish Agency, United States), Rebecca Wedlake (agent, Creative Artists Agency, United Kingdom), Thomas Burgel (journalist, Les Inrockuptibles, France), Alex Stevens (programmer, Dour Festival, Belgium) and finally, Seb Webber (vice-president of A&R, XL Recordings, United Kingdom) will participate again this year, and they'll be just as curious to hear and discover the artists coming out of Montreal and the rest of Canada who are most likely to represent us next year on the international scene. Let's not forget Anthony Von Pervieux (director-music creative, ABC-TV Studios, United States), Jacques Monnier (programmer, Paléo Festival, Switzerland), Amy Butterer (agent, Billions Corporation, United States), Rob Challice (agent, Coda Agency, United Kingdom), Hedi Hassouna (programmer, Rock dans tous ses états, France) and Geoff Trio (agent, Code One, Australia), who'll be among those attending M for Montreal for the first time.

Tickets and passes on sale as of tomorrow, 3:00PM

Tickets for M for Montreal's activities will be on sale on Admission and Ticketpro outlets as of tomorrow, Wednesday, October 21st, at 3:00PM. A three-day pass, which grants access to the three showcases, the M for Martini cocktail party, the M for Metropolis closing event, the M for Midnight after party, and the two panels will also be available for $60 (plus taxes and service fees).

About M for Montreal

Founded in 2006 by Sébastien Nasra (Avalanche Productions), in collaboration with the legendary British festival programmer Martin Elbourne (Glastonbury Festival, The Great Escape and cofounder, along with Peter Gabriel, of the WOMAD Festival), M for Montreal presents various showcases, aside from its main event in November, all around the world (South by Southwest in Austin, TX, The Great Escape in Brighton, UK) and in Quebec (mini-M, M on the Quays) that put Montreal and Canadian music in the spotlight. For more information, please visit our website at www.mformontreal.com.