50 Cent at Best Buy Union Square and Jersey City (11/20/09)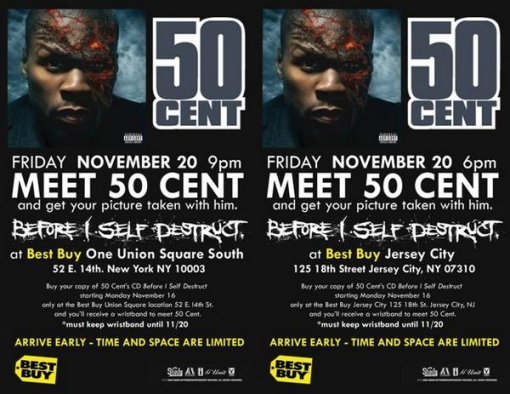 UPDATE: Here's an RSVP link for the Club Beats thing.
Check out Club Beats with Dr. Dre and will.i.am!

Club Beats at Best Buy is a new in-store sound experience featuring the best in music and sound. Come to Best Buy to be part of the Club Beats nationwide launch event November 19th 4 to 12 a.m. and get your hands on the latest in DJ equipment, learn mixing tips and tricks from the pros and have the chance to win incredible prizes. Don't miss the following live appearances beginning at 4 p.m. :

Dr. Dre
Jimmy Iovine, Chairman Interscope Geffen A&M
will.i.am
Major Lazer featuring Diplo
David Guetta

For more information, please go to www.BestBuy.com/ClubBeats and check back regularly for updates.

50 Cent Will Be Here!
Please join us at Best Buy Union Square on Friday, November 20th at 9PM to meet 50 Cent and get your picture taken with him! Starting Monday, November 16th, you can buy a copy of his new album "Before I Self Destruct" and receive a wristband to see him on Friday. You must keep your wristband until 11/20! ARRIVE EARLY – TIME AND SPACE ARE LIMITED! [stores.bestbuy.com]
…but wait, there's more.
Rihanna
Meet Grammy-award winning artist and style fashionista Rihanna on Monday, November 23rd, at Best Buy in Union Square – New York City. Be one of the first customers to purchase her new CD Rated R, beginning at 8:00 AM. She will be signing copies of the album. [Ultimate Rihanna]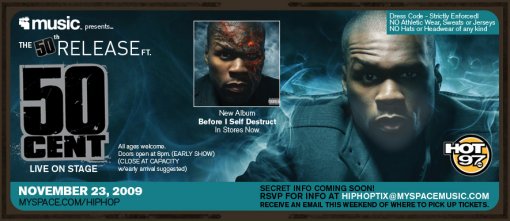 In addition to his Best Buy Union Square appearance, 50 Cent will also be appearing at (the new?) Best Buy Jersey City on November 20 at 6 PM. Last but not least, like all the cool kids, 50 will be playing a MySpace Secret Show on November 23rd at an undisclosed NYC location, email hiphoptix@myspacemusic.com to RSVP.