Diane Birch at The Fillmore NY at Irving Plaza (09/29/09)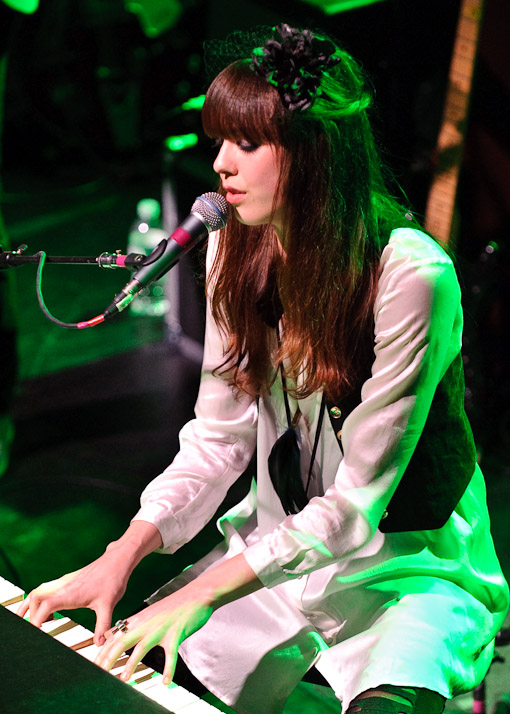 Photo: Jon Klemm
Diane Birch opened for Mat Kearney at The Fillmore NY at Irving Plaza back in September and she was supposed to play her own headlining show at the City Winery in October, but that gig was cancelled due to illness. Not one to let her fans down, Diane has rescheduled two post Thanksgiving shows at the City Winery on November 29 and 30, 2009. Then after a brief scheduled jaunt over to Japan, Diane will be back in NYC in February 2010 to play a show at NYU's Skirball Center (Buy Tickets). Here's what Ventures in Slipstream had to say about Diane's Irving Plaza performance:
But to backtrack, before Mat took the stage at 9:15, there was an opening act that took me by storm. Diane Birch didn't keep the crowd waiting and walked onto the stage promptly at 8pm. I was immediately struck by how pretty she was, with a heavy fringe of bangs and long tumbling brown hair crowned with a flower headband, big doe-like eyes that were reminiscent of Twiggy, and a cool hipster outfit right down to the best Chloe Sevigny for Opening Ceremony wedges that I have loved forever.

But it was her voice that would blow me out of the water.
She immediately sat down at her piano and began crooning the honey-, smokey-smooth "Forgiveness," overflowing with soulful Hallelujah's but hardly religious. It was the perfect set-up for her story: the daughter of a South African-born pastor father, Diane was born in Michigan but spent much of her childhood following her father's mission from Zimbabwe to South Africa to Australia, finally settling in Portland, Oregon when she was 10 years old. [Ventures In Slipstream]
More photos and Diane Birch tour dates after the jump.
Diane Birch 2009-2010 Tour Dates
Nov 29 2009 City Winery w/ Hard Drugs (RE-SCHEDULED show) New York, NY (Buy Tickets)
Nov 30 2009 City Winery opener TBD New York, NY (Buy Tickets)
Dec 8 2009 Shinsaibashi Club Quattro Osaka, Osaka
Dec 9 2009 Shibuya Club Quattro Tokyo, Tokyo
Dec 10 2009 Shibuya Club Quattro Tokyo, Tokyo
Feb 13 2010 NYU Skirball Center New York, New York
If you'd like to see either of the City Winery shows, you can enter a contest to win tickets over here.