The Beatles Holiday Poster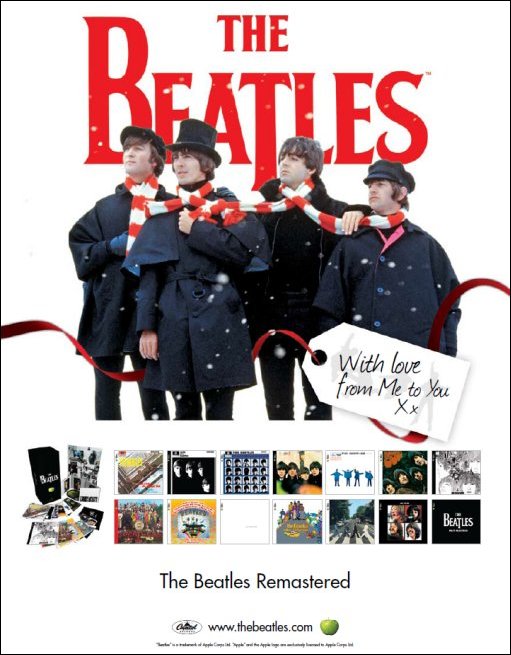 Hey, so the thinly veiled purpose of this post is basically to remind you that the newly remastered Beatles Box Sets (Stereo or Mono) would make a great Chanukah (and/or possibly Christmas) gift for that special music lover in your life. However, on the surface, the reason I am posting about The Beatles again is because I have an attractive holiday poster to give away (some might say it's more of a Christmas poster, than a generic "holiday" poster, but I digress). In order to win this bad boy, follow @bumpershine on Twitter and Tweet the following (or something like it):
Follow @bumpershine and RT this for a chance to win a limited edition Beatles holiday poster. http://bit.ly/4YGiWH
Contest ends Friday, November 29, US entrants only please. (Please remember to follow me if you aren't already, otherwise you won't be eligible to win).
In other Beatles news:
Sir Paul McCartney just release a new live record entitled Good Evening New York City, I'm giving away a copy over here.
EMI has sued BlueBeat.com and BaseBeat.com over illegal distribution of The Beatles songs over the Internet. [NYTimes.com/AP]
Paul McCartney was just awarded the Gershwin Award for Popular Song by The Library of Congress. He plans to perform at the tribute show in the Spring of 2010. [NYTimes.com]
Starting on December 8, 2009, The Beatles will sell their entire digitally remastered catalogue on a limited edition USB stick that looks like an apple. Click here to preorder.
For the first time ever, Ringo Starr is producing his own album. The Y Not is set to hit the store shelves on January 12, 2010. [TheBeatles.com]
Finally, in case you've been living under a rock since 9.9.9, I've included the press release about the new digitally remastered box sets after the jump. (If you're going to order at amazon.com, read this post to get 10% off.)
Apple Corps Ltd. and EMI Music are delighted to announce the release of the original Beatles catalogue, which has been digitally re-mastered for the first time, for worldwide CD release on Wednesday, September 9, 2009 (9-9-09), the same date as the release of the widely anticipated "The Beatles: Rock Band" video game. Each of the CDs is packaged with replicated original UK album art, including expanded booklets containing original and newly written liner notes and rare photos. For a limited period, each CD will also be embedded with a brief documentary film about the album. On the same date, two new Beatles boxed CD collections will also be released.

The albums have been re-mastered by a dedicated team of engineers at EMI's Abbey Road Studios in London over a four year period utilising state of the art recording technology alongside vintage studio equipment, carefully maintaining the authenticity and integrity of the original analogue recordings. The result of this painstaking process is the highest fidelity the catalogue has seen since its original release.

The collection comprises all 12 Beatles albums in stereo, with track listings and artwork as originally released in the UK, and 'Magical Mystery Tour,' which became part of The Beatles' core catalogue when the CDs were first released in 1987. In addition, the collections 'Past Masters Vol. I and II' are now combined as one title, for a total of 14 titles over 16 discs. This will mark the first time that the first four Beatles albums will be available in stereo in their entirety on compact disc. These 14 albums, along with a DVD collection of the documentaries, will also be available for purchase together in a stereo boxed set.

Within each CD's new packaging, booklets include detailed historical notes along with informative recording notes. With the exception of the 'Past Masters' set, newly produced mini-documentaries on the making of each album, directed by Bob Smeaton, are included as QuickTime files on each album. The documentaries contain archival footage, rare photographs and never-before-heard studio chat from The Beatles, offering a unique and very personal insight into the studio atmosphere.

A second boxed set has been created with the collector in mind. 'The Beatles in Mono' gathers together, in one place, all of the Beatles recordings that were mixed for a mono release. It will contain 10 of the albums with their original mono mixes, plus two further discs of mono masters (covering similar ground to the stereo tracks on 'Past Masters'). As an added bonus, the mono "Help!" and "Rubber Soul" discs also include the original 1965 stereo mixes, which have not been previously released on CD. These albums will be packaged in mini-vinyl CD replicas of the original sleeves with all original inserts and label designs retained.