Pixies at Hammerstein Ballroom (11/23/09)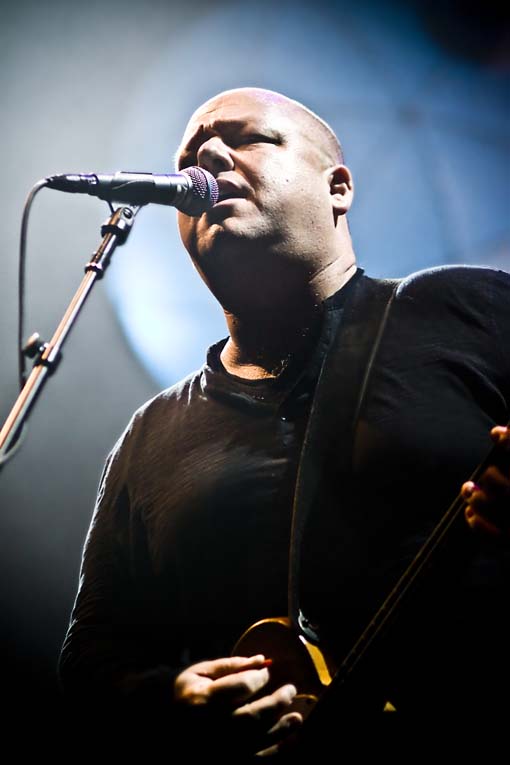 Photo: Dese'Rae Stage
Hey folks, a little late on the draw with these (long story), but better late than never right? Here's what Ben Ratliff of the NYTimes (what no Sisario?) had to say about night 1 (Nov 23) of The Pixies residency at the Hammerstein Ballroom:
Monday's show was sturdy, dutiful and not particularly thrilling. It really was a concert about an album, and not much more: obliging the nostalgic impulse for a sold-out crowd, giving the catalog a watering. "Debaser," one of the best songs on "Doolittle," contains references to the Buñuel-Dalí Surrealist film "Un Chien Andalou." And so a seven-minute portion of it "" including the famous slashed-eyeball scene "" was shown before the music started. The band began with four B sides, and then got down to business.

At this point, the Pixies cut across rock taste, still appealing to inward weirdoes but giving the audience a foothold with really shoutable chorus chants. Those chants, as sung by Black Francis, the band's principal singer and songwriter, were usually strange "" like the French word "chien!" from "Debaser," or "wave of mutilation," from the song of the same name. (It was performed twice: once in its punkish album form and once in its slow, gorgeous, surfy version, released on a B side.) In any case, the Pixies are "" or were "" stealth anthem-writers. [NYTimes.com]
One last thing for Pixies fans out there, you can win a copy of the limited edition Minotaur box set, and a lot of other deluxe items over here:
To win a collection of five sets, the complete A+R Catalog, the Pixies' Minotaur (Limited Edition), Beck's The Information (Deluxe Edition Vinyl Package), Julian Casablanca's Phrazes for the Young (Luxury Edition Deluxe Set), and two sold-out sets: Nine Inch Nails' Ghosts I-IV (Ultra Deluxe Limited Edition) and Sigur Ros' In A Frozen Sea (Limited Edition Vinyl Album Collection). The winner will be announced from a drawing on December 25th.
More photos from night 1 of the Pixies "Doolitle" show after the jump.
Pixies at Hammerstein Ballroom (11/23/09) by Dese'Rae Stage