"Get Off Your Knees" w/ Sara Schaefer & Kim Armstrong (12/08/09)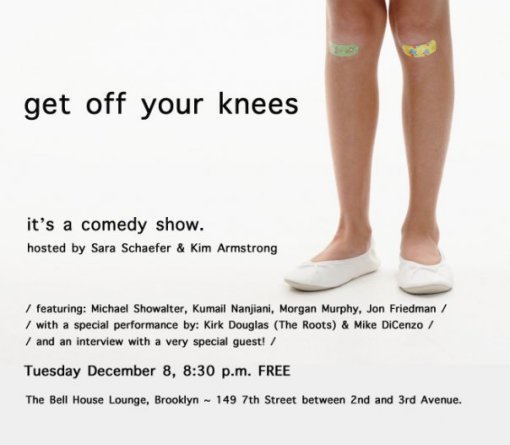 Hey Folks,
Tearing The Veil of Maya is having a big holiday blowout show Sunday (Dec 6) at The Bell House with the following announced guests: Michael Showalter, John Mulaney, Kumail Nanjiani, and Thunderant (Fred Armisen and Carrie Brownstein). You can buy tickets for this show over here.
Not to be outdone, the good folks at Tell Your Friends! are having a massive benefit for the Leukemia & Lymphoma Society on Tuesday night (Dec 8) at Comix with the following amazing lineup: Liam Mceneaney, Triumph The Insult Comic Dog, John Oliver, Caroline Rhea, Kristen Schaal,Todd Barry, Eddie Brill and music by A Brief View of the Hudson. You can buy tickets for this show over here.
Last but not least, friend of bumpershine, Sara Schaefer is co-hosting a brand new comedy show with Kim Armstrong on Tuesday night (Dec 8) at The Bell House. The inaugural lineup for "Get Off Your Knees" (which obviously refers to praying) features the following comedic artists: Michael Showalter, Morgan Murphy, Kumail Nanjiani, Jon Friedman, and a special performance by Kirk Douglas of The Roots with Fallon writer Mike DiCenzo. Oh yeah, did I mention that this show is FREE!
On a final note, I've been wanting to mention for a while now that according to the NYTimes, Michael & Michael Have Issues has been picked up for another 6 episodes by Comedy Central, so congrats to: Kumail Nanjiani, The Michaels, Jessi Klein and everyone else involved with the show. That little tidbit of information was part of a glowing feature that ran on Kumail back in October of this year. Another interesting piece of information contained in that article is that NBC has agreed to produce a pilot based on an idea of Kumail's, which he will also write and star in.
List of a few other comedy shows this week and a press release for the Tell Your Friends! cancer benefit (with prize info) after the jump.
Comedy NYC Dec 6-13, 2009
Dec 06 "Tearing The Veil of Maya Holiday Party" – The Bell House
Dec 07 "Whiplash" w/ Leo Allen – UCB Theatre
Dec 07 "Good For The Jews" w/ DeLeon, Morgan Murphy, Seth Herzog, Rachel Sklar – Highline Ballroom
Dec 08 "Get Off Your Knees" w/ Sara Schaefer and Kim Armstrong – The Bell House
Dec 08 "Punch Up Your Life" w/ Pete Holmes and Jessi Klein – Housing Works
Dec 08 "Let's Kick Cancer's Butt" w/ Liam McEneaney – Comix NY
Dec 09 "Big Terrific w/ Max, Gabe and Jenny" – Cameo Gallery
Dec 09 A Special Evening with Jackie Mason – Comix NY (Early show)
Dec 09 "The Daily Show" & Friends- Comix NY (Late show)
Dec 10 "Comedy Below Canal: The 2nd Annual New York Channy Awards with Channel 101" – 92Y Tribeca
Dec 10 "Comedy As A Second Language" – Kabin NYC
Dec 10 Variety Shac – UCB Theatre
Dec 10-12 JB Smoove – Comix NY
Dec 11 Living Room Comedy – Postmark Cafe
Dec 13 The Greg Johnson Show – Pianos
Tuesday, December 8th
Tell Your Friends!
We'll Kick Cancer's Butt!
A Benefit for the Leukemia & Lymphoma Society of America

SPONSORED BY: The Onion
FREE BEER AFTERPARTY! Courtesy Brooklyn Brewery

at Comix Comedy Club
353 W. 14th St., at 9th Ave.
DOORS: 8:00pm
ADMISSION: $30.00 (w. 2-drink min.)
ADV. TIX: http://comixny.com/event.aspx?eid=670&sid=2378

HOST:
LIAM McENEANEY
from Comedy Central, VH1, CNN, and regularly tours across the United States and Europe.

WITH:
TRIUMPH THE INSULT COMIC DOG
from "Late Night with Conan O'Brien," "The Tonight Show," and his own CD, "Come Poop with Me."

JOHN OLIVER
is a correspondent for "The Daily Show w/ Jon Stewart," the star of his own one-hour Comedy Central special "Terrifying Times," and the upcoming series, "John Oliver & Friends"

CAROLINE RHEA
from her 29 appearances on "Late Night w/ Conan O'Brien," and also appearances on "The Tonight Show," her own HBO special, "Sabrina the Teenage Witch," and NBC's "The Biggest Loser"

KRISTEN SCHAAL
from the hit HBO comedy, "Flight of the Conchords," AMC's "Mad Men," and her own "Comedy Central Presents: Kristen Schaal" special

TODD BARRY
has been seen on two "Comedy Central Presents: Todd Barry" specials, as well as "The Late Show w/ David Letterman," and "Late Night w/ Conan O'Brien." The Onion called his album, "Medium Energy," one of the 10 best comedy albums of the past decade.

and

EDDIE BRILL
has been seen on multiple "Late Show w/ David Letterman" appearances, and his own "Comedy Central Presents: Eddie Brill" special

AND MUSIC BY:
A Brief View of the Hudson
has been called Manhattan's Best Folk Duo by The NY Press, "surprisingly tolerable" by The Onion, and Time Out NY says: "A Brief View of the Hudson features Ann Enzminger's arrestingly powerful vocals, which are well tuned to the duo's graceful songs of indie-folk heartbreak."

WITH THE ULTIMATE COMEDY NERD RAFFLE
Prizes include:
A brand-new iPod Touch from TekServe
The world's most completely-autographed Onion book
An autographed script from Family Guy
An ASSSCAT gift pack including tickets
A Comedy Central Records gift bag (we'll probably get some of our comics to autograph these)
A Standup Records gift bag
A Sub Pop Records gift bag
Autographed books from Martha Stewart, Emerille Lagassie, and MORE!
A free night at Comix
TV taping tickets TBA
AND MORE….!

PRODUCED BY: Liam McEneaney and Jessica Flores