Cymbals Eat Guitars at CMJ (10/23/09)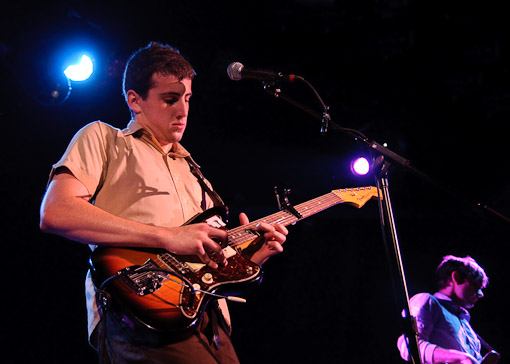 Photo: Jon Klemm
Coming off a buzzworthy CMJ, Staten Island's Cymbals Eat Guitars have just announced a bunch of new tour dates, including a headlining gig at the Music Hall of Williamsburg on April 9, 2010 (Buy Tickets 12/11 at noon). Here's what one of their fellow neighborhood bloggers had to say about them earlier this year:
For a good portion of this year there has been buzz swirling around New York locals Cymbals Eat Guitars, thanks to a sudden and completely unexpected Best New Music nod from a certain music website. That nod took a young band and thrust them into the spotlight, nabbing them high profile shows that most bands have to work their way into. In other words the backlash to the success Cymbals Eat Guitars have found for themselves should be arriving about 5-minutes ago. Not surprisingly the band has moments of absolute genius when they're on stage, but there is also that deer in the headlights feeling that they just haven't had enough time to work into the success. Some songs sound incredible mixing punk and psychedelic aspects flawlessly, other tunes sound like a garbled mess that needs just a little tweaking to be something noteworthy. Basically, I'm saying the guys over at Pitchfork were half right, there is a lot behind Cymbals Eat Guitars that I really like but there are small things here and there that need to be worked on and I think maybe this band might be able to pull it off. [PopTartsSuckToasted]
More Cymbals Eat Guitars 2010 tour dates and pictures CMJ after the jump.
Cymbals Eat Guitars 2009 Tour Dates
Dec 16 2009 Holiday Party w/ Black Gold, DJ Jesse Marco – Wired Store, New York, NY
Cymbals Eat Guitars 2010 Tour Dates
Mar 05 2010 Johnny Brenda's – w/ Bear In Heaven Philadelphia, PA
Mar 06 2010 Rock And Roll Hotel – w/ Bear In Heaven Washington, DC
Mar 07 2010 Local 506 – w/ Bear In Heaven Chapel Hill, NC
Mar 09 2010 The End – w/ Bear In Heaven Nashville, TN
Mar 10 2010 Pilot Light – w/ Bear In Heaven Knoxville, TN
Mar 11 2010 The Earl – w/ Bear In Heaven East Atlanta, GA
Mar 13 2010 Will's Pub – w/ Bear In Heaven Orlando, FL
Mar 16 2010 Mango's – w/ Bear In Heaven Houston, TX
Mar 22 2010 The Rhythm Room – w/ Bear In Heaven Phoenix, AZ
Mar 23 2010 Casbah – w/ Bear In Heaven San Diego, CA
Mar 24 2010 Echo – w/ Bear In Heaven Los Angeles, CA
Mar 25 2010 Bottom Of The Hill – w/ Bear In Heaven San Francisco, CA
Mar 27 2010 Berbati's Pan – w/ Bear In Heaven Portland, OR
Mar 29 2010 The Biltmore Cabaret – w/ Bear In Heaven Vancouver, BC
Mar 31 2010 Kilby Court – w/ Bear In Heaven Salt Lake City, UT
Apr 01 2010 Hi Dive – w/ Bear In Heaven Denver, CO
Apr 02 2010 Replay Lounge – w/ Bear In Heaven Lawrence, KS
Apr 03 2010 Turf Club – w/ Bear In Heaven Saint Paul, MN
Apr 04 2010 Schubas Tavern – w/ Bear In Heaven Chicago, IL
Apr 06 2010 El Mocambo w/ Bear In Heaven Toronto, ON
Apr 07 2010 Il Motore – Il Motore w/ Bear In Heaven Montreal, QC
Apr 08 2010 Middle East Downstairs – w/ Bear In Heaven Cambridge, MA
Apr 09 2010 Music Hall Of Williamsburg – w/ Bear In Heaven Brooklyn, NY