Corinne Bailey Rae at Hiro Ballroom (12/07/09)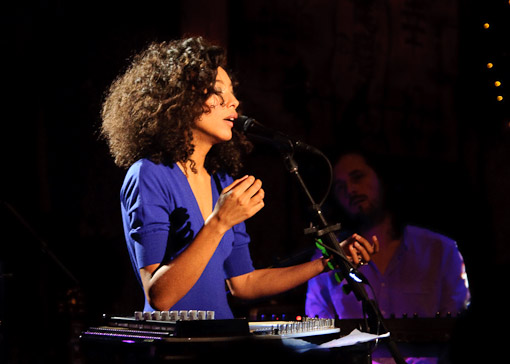 Photo: Jon Klemm
It's been 10 years since the estrogen fueled lineup of Lilith Fair took Canada and the US by storm, and since then, the summer festival scene has exploded. Despite the change in the landscape, Nettwerk's Terry McBride and his signature artist Sarah McLachlan are looking to give it another go (whether we like it or not) with Lilith Fair 2010. It remains to be seen whether ticket buyers will flock back the current iteration of this female friendly festival, but here's who they are betting on to lure them back in:
The first round of artists confirmed for the 2010 Lilith Tour are:

A Fine Frenzy, Ann Atomic, Ash Koley, Brandi Carlile, Butterfly Boucher, Chairlift, Chantal Kreviazuk, Colbie Caillat, Corinne Bailey Rae, Donna Delory, Emmylou Harris, Erykah Badu, Grace Potter and The Nocturnals, Ima, Indigo Girls, Ingrid Michaelson, Janelle Monae, Jennifer Knapp, Jill Hennessy, Jill Scott, Katzenjammer, Ke$ha, Mary J. Blige, Meaghan Smith, Metric, Miranda Lambert, Nneka, Sara Bareilles, Sarah McLachlan, Serena Ryder, Sheryl Crow, Sugarland, Susan Justice, Tara MacLean, Tegan and Sara, Vedera, Vita Chambers, The Submarines, The Weepies, Ximena Sarinana, Zee Avi. [LilithFair.com]
Lilith Fair will take place in the following cities in the summer (?) of 2010: Atlanta, Boston, Calgary, Chicago, Dallas, Denver, Los Angeles, Minneapolis, Montreal, New York, Philadelphia, Portland, Seattle, San Francisco, Toronto, Vancouver, Washington DC and London. No tour dates have been announced as of yet.
Corinne Bailey Rae recently played shows at the Hiro Ballroom and Joe's Pub, she'll be back in NYC in January, February and April.
Ingrid Michaelson is headlining her annual "Holiday Hop" show at the City Winery on Dec 21, 2009 (Buy Tickets).
Grace Potter and The Nocturnals will be appearing at Levon Helm's "Midnight Ramble" in Woodstock, NY on Jan 9, 2010.
Zee Avi is playing a show at The Bell House on Jan 14, 2010 with Rory Scovel, Kevin Barker, and Stardweller (Buy Tickets).
Brandi Carlile is playing a show at the Wellmont Theatre in Montclair, NJ on Feb 6, 2010 (Buy Tickets).
Sheryl Crow will be appearing on Spectacle: Elvis Costello With… this Wednesday night (Dec 16, 2010) at 10PM.
Last but not least, Sarah McLachlan has announced that her first new album of original material will be released in April 2010.