The Bell House Upcoming Shows 2010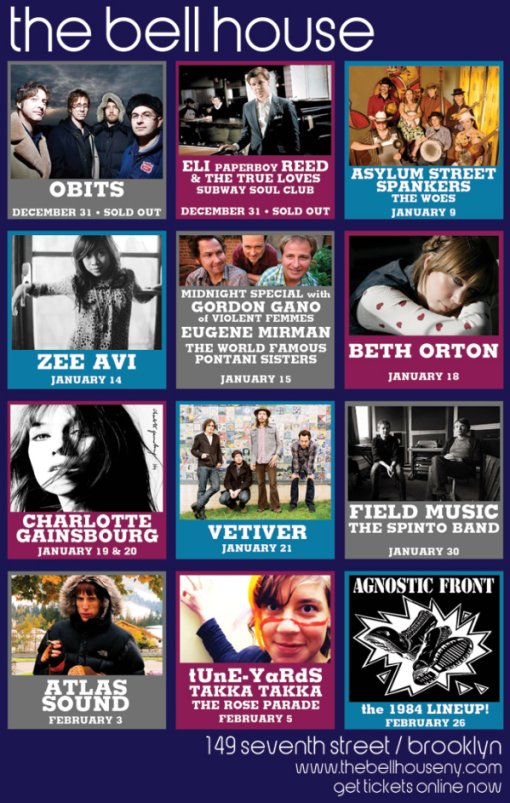 Talent buyer Jack McFadden continues to keep up the excellent work at The Bell House and Union Hall as the upcoming concert calendars at both venues look strong as we head into 2010. Recently announced shows at The Bell House include: Beth Orton, Charlotte Gainsbourg, Field Music, Atlas Sound, Zee Avi, David Byrne (lecture), Gordon Gano, Vetiver, Tinariwen, Fool's Gold, tUnE-YaRdS and Agnostic Front (just to name a few). Some interesting upcoming Union Hall shows include: Taken By Trees, Oh No Ono, Retribution Gospel Choir, AA Bondy and a Delta Spirit residency.
All this week (Dec 28 – Jan 4), you can ask Jack a question over at the New York Times City Room Blog:
In less than a year, Union Hall has hosted American debut shows by Peter Bjorn & John and A Camp (a solo project of the singer from The Cardigans) and shows from Cold War Kids, Andrew Bird, Sloan, Nada Surf, Glen Phillips (of Toad the Wet Sprocket), St. Vincent and many more. He is also involved with his own digital record company and music supervision company, Zero One Infinity, which has placed music on iTunes and also in commercials for Coca-Cola, Hummer and TV shows like "Grey's Anatomy","The O.C.", and "Weeds". [NYTimes.com]
Check out the Union Hall upcoming show flyer after the jump.