Spoon at Radio City (03/26/10)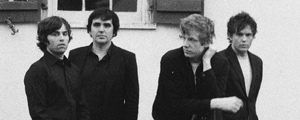 Not typically being a "day blogger", you probably came across this story already, but just in case you didn't, the big news of the day is that Spoon's new album leaked is streaming at NPR.org/firstlisten and they're playing Radio City Music Hall on March 26, 2010 with Deerhunter and The Strange Boys. Tickets for that show go on Amex presale on Wednesday, January 13 at 12PM EST today (Jan 12), and regular on sale on January 16, 2010 at 11AM EST. In other Spoon news, to mark the album's release, they'll be appearing on the Tonight Show with Conan O'Brien on January 19 and to kick off their North American tour, they'll be headlining Stubb's on March 17 as part of NPR Music's All Songs Considered SXSW showcase.
All Spoon tour dates after the jump.
Spoon 2010 North America Tour Dates
03/17 Stubbs Austin, TX SXSW
03/18 Republic New Orleans, LA
03/19 Workplay Soundstage Birmingham, AL
03/20 Tabernacle Atlanta, GA
03/22 9:30 Club Washington, DC
03/23 9:30 Club Washington, DC
03/24 The National Richmond, VA
03/26 Radio City Music Hall New York, NY
03/27 House of Blues Boston, MA, USA
03/29 Sound Academy Toronto, ON
03/30 Royal Oak Music Theatre Royal Oak, MI
04/01 Aragon Ballroom Chicago, IL
04/02 First Avenue Minneapolis, MN
04/03 First Avenue Minneapolis, MN
04/05 Ogden Theatre Denver, CO
04/06 Ogden Theatre Denver, CO
04/07 In the Venue Salt Lake City, UT
04/09 Moore Theatre Seattle, WA
04/10 Moore Theatre Seattle, WA
04/11 Orpheum Theatre Vancouver, BC
04/13 Fox Theater Oakland, CA
*Deerhunter direct support on all dates.
*New Orleans – Royal Oak w/ The Strange Boys
*Chicago – Oakland w/ Micachu & the Shapes