Ringo Starr at The Artists Den (01/14/10)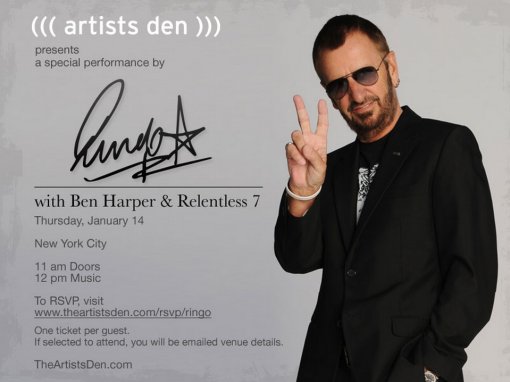 ((( artists den )))
presents

a special performance by

Ringo Starr
with Ben Harper and Relentless 7

Thursday, January 14
New York City
11 am Doors
12 pm Music

To RSVP, visit
www.theartistsden.com/rsvp/ringo

If selected to attend, you will be emailed venue details.
Ringo's new album, Y Not, the first produced by the former Beatle himself, hits the store shelves on Tuesday (01/12/10). No official tour announcement has been made as of yet, but aside from this one off TV taping in NYC, Ringo is playing the GRAMMY Museum in LA on January 19, 2010. Tickets are on American Express presale right now!
If you'd like to read about the time I saw Ringo Starr play a secret show at The Bottom Line in NYC, click here.
Y Not track listing after the jump.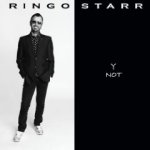 Y Not Track Listing
1. Fill In The Blanks 3:13
2. Peace Dream 3:35
3. The Other Side Of Liverpool 3:23
4. Walk With You 4:41
5. Time 3:48
6. Everyone Wins 3:54
7. Mystery Of The Night 4:05
8. Can't Do It Wrong 3:44
9. Y Not 3:49
10. Who's Your Daddy 2:29