The Costello Show – Live at Hollywood High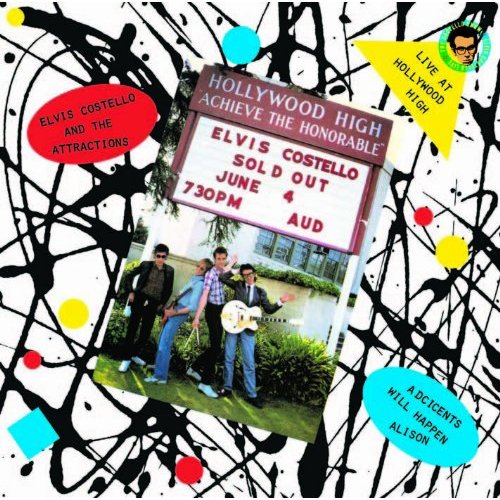 Elvis Costello and The Attractions' legendary 1978 show at Hollywood High will surface on CD next month, marking the first time the performance has been available in its entirety.

Titled "Live at Hollywood High," the 20-song set is scheduled for a Jan. 12 release, and will include 11 previously unreleased recordings, according to Universal Music Enterprises. [LiveDaily.com]
In addition to this "new" live album, Elvis is busy promoting Season 2 of Spectacle (Wednesdays at 10PM on Sundance), gearing up for his upcoming Spring tour (still waiting on the NYC date), and last but not least, preparing for his role in a new Broadway musical entitled Ghost Brothers of Darkland County. The Stephen King penned show will also feature fellow thespians Neko Case, Sheryl Crow, John Mellencamp, Rosanne Cash and Kris Kristofferson.
The play will debut in Atlanta next September at Alliance Theater, but for those not in Atlanta there will be a three-disc soundtrack to be produced by T-Bone Burnett and a book package that Mellencamp hopes to have out before the premiere. According to Mellencamp, who said the project is like listening to an old radio program from the 1930's, the music is "down-home" with the vibe of acoustic folk-blues-country of the era. Whatever it sounds like, we're there. [Spinner.com]
More Elvis Costello tour dates and Live at Hollywood High track listing after the jump.
Elvis Costello 2010 Tour Dates
02/07/10 Edmonton, AB Winspear Centre
04/07/10 Davis, CA Mondavi Center for the Performing Arts (Elvis Solo Show)
04/08/10 Napa, CA Napa Valley Opera House (Elvis Solo Show)
04/09/10 Scottsdale, AZ Scottsdale Ctr. For The Perf. Arts
04/11/10 San Diego, CA Balboa Theatre
04/12/10 San Luis Obispo, CA Christopher Cohan Center
04/13/10 Santa Barbara, CA Arlington Theatre
04/16/10 Atlantic City, NJ Circus Maximus (Elvis Costello and The Imposters)
04/24/10 Richmond, VA The National
04/27/10 Jacksonville, FL Florida Theatre
04/29/10 New Orleans, LA Fairgrounds Racecourse (NO Jazz Festival)
05/01/10 Wilkesboro, NC Wilkes Community College (Merlefest)
05/15/10 Reno, NV Peppermill Hotel Casino & Spa
05/28/10 Dallas, TX Morton H. Meyerson Symphony Center (w/ Dallas Symphony Orchestra)
05/29/10 Dallas, TX Morton H. Meyerson Symphony Center (w/ Dallas Symphony Orchestra)
Live at Hollywood High Track Listing
1. Accidents Will Happen
2. Mystery Dance
3. Lip Service – Previously unreleased
4. Living In Paradise – Previously unreleased
5. Goon Squad
6. (The Angels Wanna Wear My) Red Shoes – Previously unreleased
7. Party Girl
8. (I Don't Wanna Go To) Chelsea – Previously unreleased
9. This Year's Girl – Previously unreleased
10. No Action – Previously unreleased
11. Stranger In The House
12. The Beat – Previously unreleased
13. Alison
14. Lipstick Vogue
15. Watching The Detectives
16. You Belong To Me
17. Radio, Radio – Previously unreleased
18. Pump It Up – Previously unreleased
19. Waiting For The End Of The World – Previously unreleased
20. Miracle Man -Previously unreleased