Joanna Newsom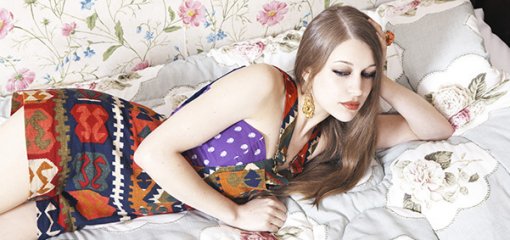 From now until Mar 2, you can listen to Joanna Newsom's new 2 hr 4 min triple album, Have One On Me, as part of NPR.org's exclusive "First Listen" series. As most of you already know, Joanna is about to hit the road to promote her new record, and she just announced that the Fleet Foxes Robin Pecknold will be joining her for a handful of North American dates. Pecknold, however, is not scheduled to play with her at the Town Hall on March 18, that spot is being filled by Newsom's partner in crime, Kevin Barker (who will be at the 92Y Tribeca with Vetiver and Scout Niblett a few nights before).
UPDATE: The March 13 92Y Tribeca show will now feature Arp instead of Kevin Barker.
Updated Joanna Newsom tour dates with US openers and a trailer for Kevin Barker's film The Family Jams after the jump.
Kevin Barker's documentary film The Family Jams is screening this Friday night (Feb 26) at 92Y Tribeca. There will also be a Q&A afterwards with Kevin Barker.
Three San Francisco-based musical acts – Devendra Banhart, Joanna Newsom, and Vetiver – tour the country performing their genre-defining music in the summer of 2004. They help each other overcome family tragedies and car accidents, and meet colorful characters, forgotten musical heroes, and folk luminaries as they travel across the country.

The film is an intimate portrait of life on the road for these young musicians early in their careers, playing tiny, obscure clubs and art galleries, but on the verge of larger success where small vans are replaced by large, impersonal tour buses. Here music is a creative, organic, inclusive endeavor. They not only sing about – they create – the world in which they want to live.
Joanna Newsom 2010 Tour Dates
3/12/10 Grand Rapids, MI ^
3/13/10 Toronto, Ontario #
3/14/10 Montreal, Quebec #
3/15/10 Montreal, Quebec #
3/17/10 Cambridge, MA #
3/18/10 New York, NY #
3/19/10 Philadelphia, PA !
3/20/10 Philadelphia, PA !
3/22/10 Washington, DC !
3/23/10 Washington, DC !
3/24/10 Charlottesville, VA @
3/25/10 Durham, NC @
3/26/10 Atlanta, GA @
3/27/10 Knoxville, TN @
3/28/10 Nashville, TN *
3/29/10 Columbus, OH *
3/30/10 Cincinnati, OH *
3/31/10 Bloomington, IN *
4/02/10 Milwaukee, WI *
4/03/10 Chicago, IL *
5/09/10 Minehead
5/11/10 London
5/12/10 London
5/14/10 Brussels
5/16/10 Hamburg
5/17/10 Berlin
5/19/10 Düsseldorf
5/21/10 Frankfurt
5/29/10 Eindhoven
5/30/10 Amsterdam
^ With Bowerbirds
# With Kevin Barker
! With The Moore Brothers
* With Robin Pecknold
@ With Jens Hannemann