Roger Waters The Wall Live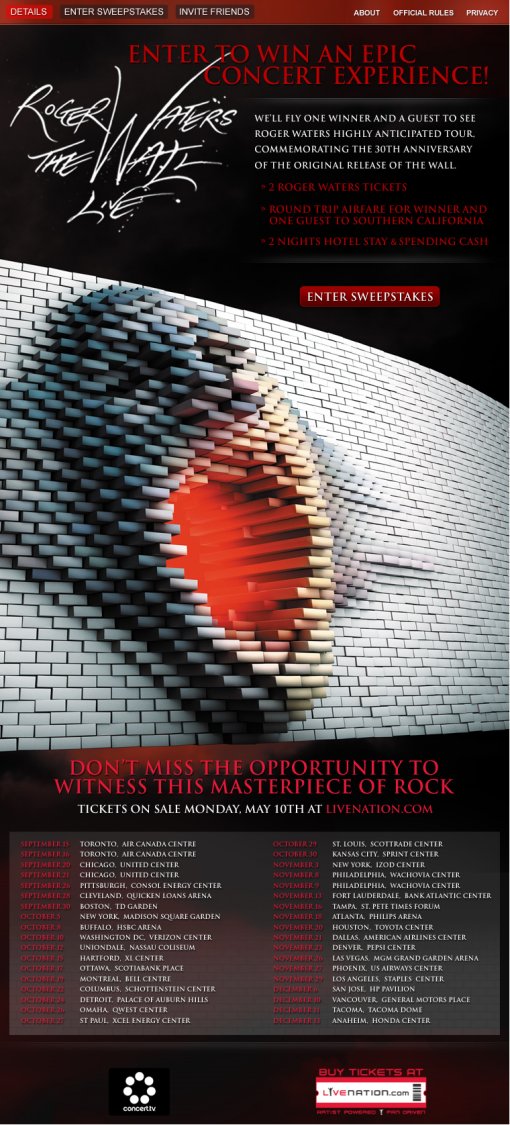 Enter Sweepstakes | Buy Tickets
Without a word of a lie, the live 2 disc version of Roger Waters' The Wall was the first CD I ever bought, and as much as I kind of loathe concerts at MSG, I'm feeling an unusually strong desire to see this show. Tickets for 24 of the upcoming shows on The Wall tour (including MSG, IZOD Center and Nassau Coliseum) go on American Express presale starting today (Monday, May 3) at 10AM. For those of you in and around New York, here are the shows that are nearby:
Roger Waters: The Wall Live
10/05/10 Madison Square Garden New York, NY (Buy Tickets) May 3 @ 10AM
10/12/10 Nassau Coliseum Long Island, NY (Buy Tickets) May 3 @ 10AM
10/15/10 XL CENTER Hartford, CT (Buy Tickets) May 3 @ 10AM
11/03/10 IZOD Center East Rutherford, NJ (Buy Tickets) May 3 @ 10AM
If you're not buying, you may want to try your luck at winning the "Epic Roger Waters Experience" from Live Nation. You can enter that contest over here. If you don't have an American Express card, the RogerWaters.com presale starts May 5, the iTunes presale starts May 6 and the public on sale begins May 10.
PS Frankly, I would not be surprised to see more dates added, especially at MSG, there is a big gap.
More Roger Waters The Wall tour dates after the jump.
Roger Waters The Wall 2010 Tour Dates
Sep 15 2010 Air Canada Centre Toronto, Ontario, CA Find Tickets
Sep 20 2010 United Center Chicago, Illinois, US Find Tickets
Sep 21 2010 United Center Chicago, Illinois, US Find Tickets
Sep 26 2010 Consol Energy Center Pittsburgh, Pennsylvan, US Find Tickets
Sep 28 2010 Quicken Loans Arena Cleveland, Ohio, US Find Tickets
Sep 30 2010 Boston TD Garden Boston, Massachuse, US Find Tickets
Oct 05 2010 Madison Square Garden New York, NY, us Find Tickets
Oct 08 2010 HSBC arena Buffalo, NY, us Find Tickets
Oct 10 2010 Verizon Center Washington, DC, us Find Tickets
Oct 12 2010 Nassau Coliseum East Garden City, NY, us Find Tickets
Oct 15 2010 XL CENTER San Francisco, CA, us Find Tickets
Oct 22 2010 Schottenstein Center Commercial Point, OH, us Find Tickets
Oct 24 2010 Palace of Auburn Hills Auburn Hills, MI, us Find Tickets
Oct 26 2010 Qwest Center Omaha Omaha, NE, us Find Tickets
Oct 27 2010 Xcel Energy Center St Paul, MN, us Find Tickets
Oct 29 2010 Scottrade Center St Louis, MO, us Find Tickets
Oct 30 2010 Sprint Center Kansas City, MO, us Find Tickets
Nov 03 2010 IZOD CENTER East Rutherford, NJ, us Find Tickets
Nov 08 2010 Wachovia Center Philadelphia, PA, us Find Tickets
Nov 09 2010 Wachovia Center Philadelphia, PA, us Find Tickets
Nov 13 2010 BankAtlantic Center Sunrise, FL, us Find Tickets
Nov 16 2010 St Pete Times Forum Tampa, FL, us Find Tickets
Nov 18 2010 Philips Arena Atlanta, GA, us Find Tickets
Nov 20 2010 Toyota Center Houston, TX, us Find Tickets
Nov 21 2010 American Airlines Center Dallas, TX, us Find Tickets
Nov 23 2010 Pepsi Center Denver, CO, us Find Tickets
Nov 26 2010 MGM Grand Hotel Paradise, NV, us Find Tickets
Nov 27 2010 US Airways Center formerly America West Arena Phoenix, AZ, us Find Tickets
Nov 29 2010 The Forum Inglewood, CA, us Find Tickets
Dec 06 2010 HP Pavilion At San Jose San Jose, CA, us Find Tickets
Dec 10 2010 General Motors Place Vancouver, BC, ca Find Tickets
Dec 11 2010 Tacoma Dome Tacoma, WA, us Find Tickets
Dec 13 2010 Honda Center Anaheim, CA, us Find Tickets