New Pornographers "Get Together" in NYC (05/04/10)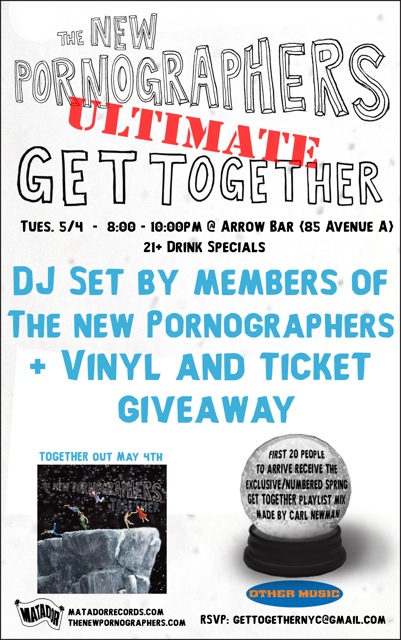 Hey folks, the New Pornographers new album Together comes out today (May 4) and tonight members of the band will be "getting together" at the Arrow Bar in NYC to listen to the album and give away free stuff. Here are the details:
DJ Set with members of the band + Other music with albums on site + drink specials + Giveaways: Tickets to New P's 5/5 Fallon show/performance + autographed TOGETHER vinyl + tickets to 6/19 Terminal 5 + more!…and of course, arrive early to be one of the first 20 to receive Carl Newman's spring Get Together mix rsvp: gettogethernyc@gmail.com – must rsvp, though still based upon capacity, arrive early!!
I don't think I officially mentioned it before, but (as stated above) the NP's will be playing Terminal 5 on June 19 (Buy Tickets) and the Bearsville Theater in Woodstock, NY (home of Carl Newman) on May 6 (Buy Tickets). You can view the rest of the New Pornographers tour dates after the jump.
The New Pornographers 2010 Tour Dates
05/06 – Woodstock, NY – Bearsville Theater
05/19 – London, England – Electric Ballroom !
05/21 – Berlin, Germany – Magnet Club !
05/22 – Hamburg, Germany – Molotow !
05/23 – Amsterdam, Netherlands – Melkweg !
05/25 – Brussels, Belgium – Orangerie !
05/26 – Paris, France – La Maroquinerie !
05/27 – Toulouse, France – Cafe Rex !
05/28 – Parc Del Forum, Barcelona, Primavera Sound
05/31 – George WA – Sasquatch Music Festival
06/07 – Calgary AB – MacEwan Hall*
06/08 – Edmonton AB – Edmonton Event Centre*
06/09 – Saskatoon SK – The Odeon Events Centre*
06/10 – Winnipeg MB – The Garrick Centre*
06/11 – Minneapolis MN – First Avenue
06/12 – Milwaukee WI – Pabst Theater^#
06/13 – Columbus OH – Newport Music Hall^#
06/15 – Toronto ON – The Sound Academy^#
06/17 – Montreal QC – Le National^#
06/18 – Boston MA – House of Blues^#
06/19 – New York NY – Terminal 5^#
06/21 – Philadelphia PA – Trocadero Theatre^#
06/22 – Washington DC – 9:30 Club^#
06/23 – Washington DC – 9:30 Club^#
06/25 – Chapel Hill NC – Memorial Hall at UNC^#
06/26 – Atlanta GA – Variety Playhouse^#
06/27 – Nashville TN – Cannery Ballroom^#
06/28 – St Louis MO – The Pagaent^
07/15 – Vancouver BC – The Vogue Theatre^"
07/16 – Portland OR – Crystal Ballroom^"
07/18 – Oakland CA – Fox Theater^"
07/19 – Los Angeles CA – The Music Box^"
07/20 – Los Angeles CA – The Music Box^"
07/21 – Tucson AZ – Rialto Theatre^"
07/23 – Austin TX – Stubb's BBQ^"
07/24 – Dallas TX – The Showroom at Palladium^"
07/25 – Tulsa OK – Cain's Ballroom^"
07/26 – Lawrence KS – Liberty Hall^"
07/28 – Denver CO – Ogden Theatre^"
07/30 – Boise ID – Egyptian Theatre^"
08/04 – Madison WI – Orpheum Theatre^
with support from :
! = Here We Go Magic
* = The Mountain Goats
^ = The Dodos
# = The Dutchess & The Duke
" = Imaad Wasif