Janelle Monae – The ArchAndroid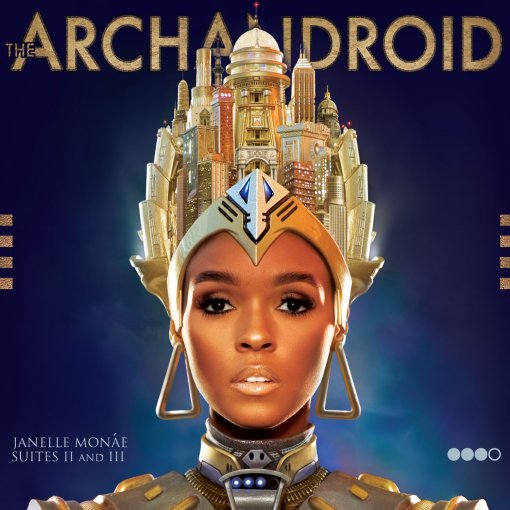 Free Album Stream: www.myspace.com/janellemonae
Janelle Monae's Fritz Lang inspired debut LP The ArchAndroid
drops today (May 18) on Atlantic Records. After she tapes The Late Show w. David Letterman she'll be playing a free album release show at the HighLine Ballroom tonight. The RSVP list is full, but if you show up at the door, you never know what could happen. Her new album is also currently streaming on her MySpace page. If you can't catch her tonight, she'll be back at the Roseland Ballroom on June 7 opening for Erykah Badu (Buy Tickets).
"We like to think of The ArchAndroid as an 'emotion picture' for the mind," Monae says. "I do believe that it will transform you. You won't know it; you'll have to listen to it maybe a couple times. But I think it prepares your palate for more diverse music."

Of course, while the music is informed by an overarching artistic concept, Monae says that she and her team made sure to make fun songs for people to dance to.

"I also want to make it clear as well," she says, "one of the first responsibilities was to make sure that we created some jammin' music." [NPR Music]
More tour dates and a video for "Tightrope" after the jump.
Janelle Monae TV Appearances
05/18 – The Late Show w/ David Letterman – 11:35pm (ET) on CBS
05/26 – The Ellen DeGeneres Show – 4:00PM (ET) on NBC
05/27 – Lopez Tonight – 11PM (ET) on TBS
05/28 – Last Call with Carson Daly – 1:35am (ET) on NBC
Janelle Monae 2010 Tour Dates with Erykah Badu
05/28 CONSTITUTION HALL WASHINGTON, DC
05/30 THE PIER BALTIMORE, MD
06/02 CHICAGO THEATER CHICAGO, IL
06/03 CHICAGO THEATER CHICAGO, IL
06/04 CHENE PARK DETROIT, MI
06/06 ORPHEUM BOSTON, MA
06/07 ROSELAND NEW YORK, NY
06/08 TOWER PHILADELPHIA, PA
06/10 ORPHEUM MEMPHIS, TN
06/13 VERIZON HOUSTON, TX
06/14 NOKIA DALLAS, TX
06/16 FILMORE DENVER, CO
06/18 PARAMOUNT OAKLAND, CA