Jesus Lizard at Capitol Hill Block Party (07/25/09)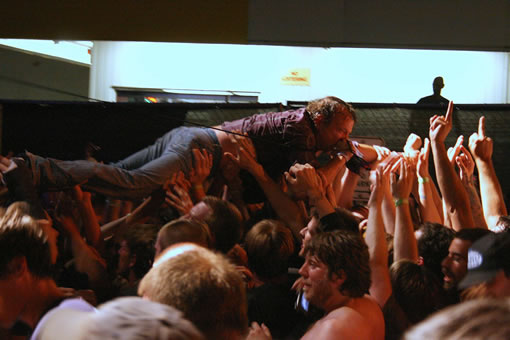 Photo: Drake LeLane (more)
My main man Drake just alerted me that the lineup for Seattle's annual 2010 Capitol Hill Block party is now public. Despite Mr. LeLane's misgivings, I actually think this year's roster looks pretty strong. Advance tickets are on sale now at thestranger.com/blockpartytickets.
2010 Capitol Hill Block Party Lineup

Friday – July 23rd
MGMT, Yeasayer, Holy Fuck, Shabazz Palaces, Bear In Heaven, Head Like A Kite, Macklemore, Unnatural Helpers, Jaguar Love, Champagne Champagne, Fences, Chris Pureka, Stay Hi Brothers, The Physics, Fences, Candidt, J.Pinder, Hella Dope, Mahjongg, Police Teeth, Naomi Punk, USF

Saturday – July 24th
Atmosphere, Blonde Redhead, !!!, Blitzen Trapper, Mad Rad, Obits, Here We Go Magic, Zola Jesus, Night Marchers, Past Lives, The Redwood Plan, THEESatisfaction, Beach Fossils, Grand Hallway, The Drowning Men, Cold Lake, Air 2 a Bird, Black Breath, Grynch/Spaceman/State of the Artist, Eastern Grip.

Sunday – July 25th
The Dead Weather, Blue Scholars, The Dutchess and The Duke, Harlem, Cynic, Fresh Espresso, Victor Shade, Truckasaurus, Villagers, Flexions, Globes, Steel Tigers of Death.