Beth Orton at The Bell House (01/18/10)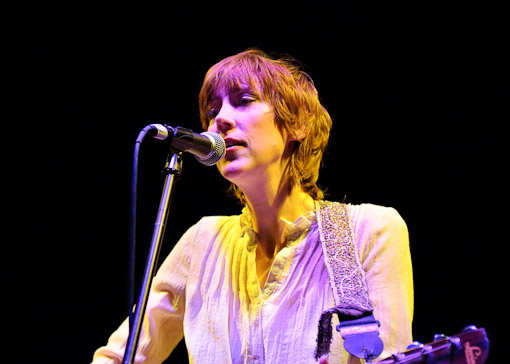 Photo: Jon Klemm
Though the lunchtime "SoundBites" concerts at the Fulton Stall Market at the Seaport have already begun, the annual River To River Festival officially kicks off tomorrow (June 22) with a performance by the Eroica Trio at the Winter Garden in World Financial Center. You can view the full River to River calendar over here, or download the program guide over here.
Highlights from this year's R2R festival include established stars like Beth Orton, The Apples in Stereo, and Burning Spear, to hotly-tipped artists like YACHT, Tiempo Libre and Thee Oh Sees, as well as special appearances by Orchestre Septentrional, Haiti's oldest big band orchestra.
Some festival highlights and more pictures of Beth Orton, who will be playing a free show at Rockefeller Park (River Terrace and Warren Street) on June 30, after the jump.
• The Grammy®-nominated Eroica Trio kicks off the festival's music line-up on June 22 at the World Financial Center Winter Garden. Whether performing great piano trio standards or daring contemporary works, the three young women who make up this celebrated trio thrill audiences with their technical virtuosity, irresistible enthusiasm, and sensual elegance. (June 22)

• Hailed as "the country's most provocative and consistently entertaining new-music event" by the Village Voice, the annual Bang on a Can Marathon at the World Financial Center Winter Garden draws huge crowds for a 12-hour marathon of mind-boggling, genre-bending music. This year's line-up includes the highly-anticipated U.S. premiere of Fausto Romitelli's Professor Bad Trip; a Bang on a Can All-Stars premiere with Mira Calix; and Balinese Gamelan. (June 27).

• With tall ships as the backdrop, The Seaport continues to showcase rising and established indie music stars with YellowFever and Woven Bones (July 2), Bear in Heaven with Zola Jesus (July 9), Thee Oh Sees with Golden Triangle and So Cow (July 16), Free Energy and Best Coast with Loose Limbs (July 23), Avi Buffalo and Chad VanGaalen (July 30), and YACHT (August 6).

• The early evening concert series at Rockefeller Park, complete with stunning Hudson River sunsets, includes: Renaissance & Steve Hackett (June 23); Beth Orton (June 30), Poets House's celebration of the poetry and music of Haiti starring L'Orchestre Septentrional (July 7), Haiti's oldest big band orchestra; Jimmy Webb and Martin Rivas (July 14); and Burning Spear (July 21).

• The annual 4th of July concert at Battery Park expands this year with music for all ages, including Dan Zanes and Friends performing Broadway classics, acclaimed Colombian band La Cumbiamba eNeYé!, and a participatory parade of 76 Trombones.

• The Broadway2Battery theme continues at Castle Clinton National Monument with a trio of concerts that includes Madeleine Peyroux (July 8), Duncan Sheik (July 15), and Antibalas, the band behind the Broadway hit FELA! (July 22).

• The annual Children's Day at the Seaport culminates with the spectacular Target Fireworks, featuring a special performance by The Apples in Stereo accompanied by the Brooklyn Youth Chorus and members of the Brooklyn Philharmonic. (June 26).

• Tiempo Libre, three-time Grammy-nominated Cuban music group, performs with Julito Martinez (August 4) at the World Financial Center Winter Garden and with Román Díaz, Pedrito Martinez and Marvin Diaz (August 5) at Rockefeller Park.

• Wagner Park, with its view of the Statue of Liberty, hosts its wildly popular Latin music series with Plena Libre (July 28), Conjunto Imagen (August 4), and Nino Segarra and his Orchestra (August 11).
Beth Orton at The Bell House