Macy Gray at Webster Hall (04/19/10)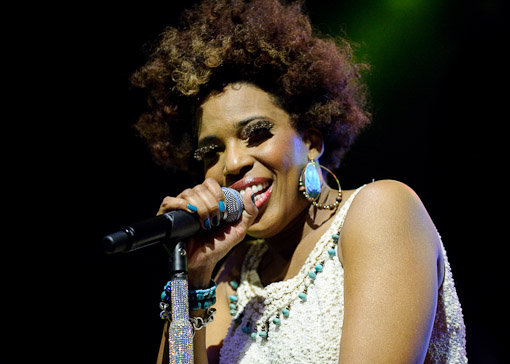 Photo: Jon Klemm
Back in April Macy Gray headlined a free Origins gig at Webster Hall which was targeted at users of the cosmetics brand, but also heavily marketed to members of MOG MMN (of which I am one). The aggressiveness of that campaign left a bit of a bad taste in my mouth at the time, but Jon got some pictures of the event, so I figured I would post them today. Macy's new album, The Sellout, is available now in fine stores everywhere.
Gray began recording "The Sellout" in 2009, 10 years since the release of the soul singer's multiplatinum, Grammy Award-winning Epic Records debut, "On How Life Is." Both the album and its runaway lead single, "I Try," ascended to No. 1. But Gray's career stalled with her subsequent Epic projects, 2001's "The Id" and 2003's "The Trouble With Being Myself." "Big," her 2007 album on Will.i.am's Geffen-distributed imprint, failed to catch on as well.

So Gray came up with a new game plan. Maybe she'd do what everyone else was doing: simply hire the hottest producers and songwriters du jour. However, an eye-opening jolt of reality set in when no one returned her calls.

"Having left the label, I was in a situation where I had to start all over again," Gray says from her home in Los Angeles. "I was on my own again; back to being a new artist. After getting to a place in my career where I'd tried everything that was asked of me, it was very liberating." [Billboard.com]
Macy doesn't have any "proper" NYC gigs lined up in the near future, but she will be performing at the Music Box at Borgata in Atlantic City on June 25, 2010 and the CBS Radio Expo at Yankee Stadium on June 26, 2010 (Buy $5 Tickets).
Check out Macy's World Cup video for "Beauty In The World" and more pics from the Webster Hall gig after the jump
Macy Gray at Webster Hall (04/19/10)


Malin Ackerman