2010 Northside Festival (Jun 24-27, 2010)


The second annual Northside Festival kicks off on Thursday (June 24) and our friends at The Battering Room, The Bell House, Cantora Records, Consequence of Sound, EAR FARM, Engine Room Recordings, I Rock I Roll, Jack "Skippy" McFadden, Kanine Records, Myopenbar.com, Sound Bites and Pop Tarts Suck Toasted (RIP) are just a few of the folks putting on showcases this year. Four day festival badges are only $50 and they can (still) be purchased over here. (It also looks like you can still use the discount code LMAG to score an additional 20% off your badge.) Even if you're only going to hit up the Northside Festival lightly this year, $40 seems like a pretty good value over 4 days.
Some of the bands participating in this year's festival include: Titus Andronicus, Liars, The Fiery Furnaces, Les Savy Fav, Elvis Perkins in Dearland, Polvo, Fucked Up, Islands, Thao and Mirah with the Most of All (Thao Nguyen with Mirah), Au Revoir Simone, Memory Tapes, Sondre Lerche, Real Estate, High Places, Woods, Wavves, Smoking Popes, Men, Parenthetical Girls, The Wave Pictures, Twin Sister, Tame Impala, Anni Rossi and Cults, just to name a few of the 250 or so acts.
You can view the full schedule for each day of the 2010 Northside Festival over here. Some showcase flyers and more or less full listing of all the participating bands can be found after the jump.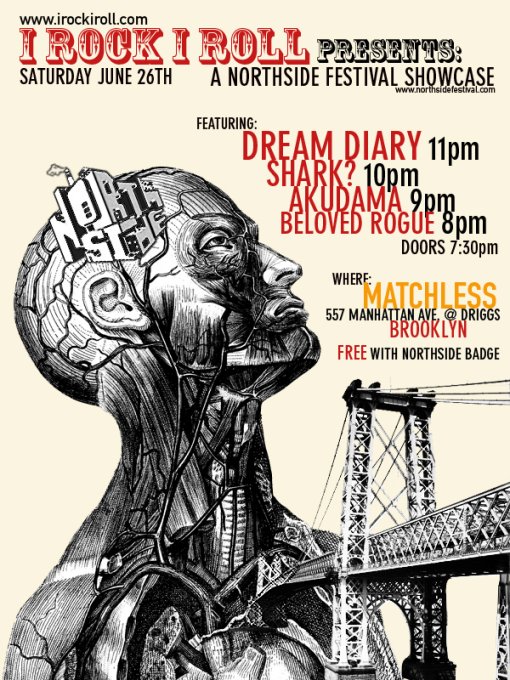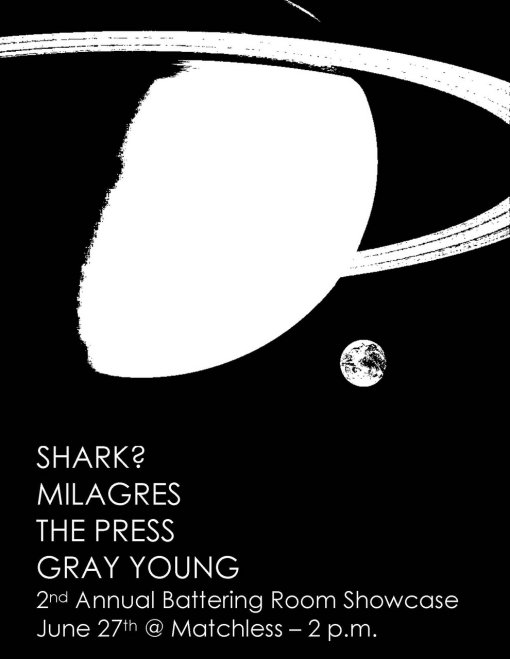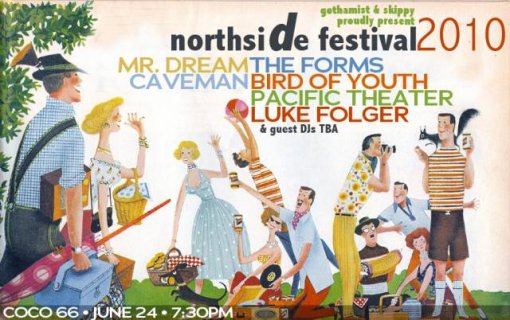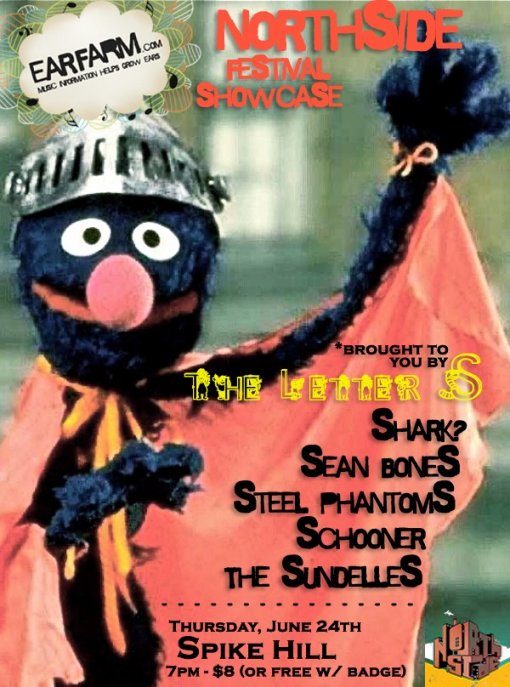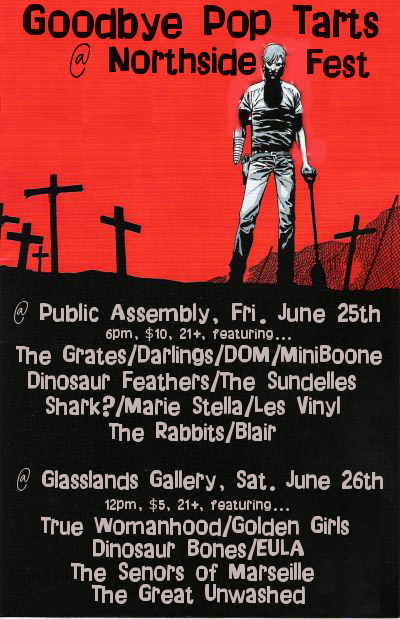 2010 Northside Festival Bands
?uestlove (DJ set) / Aa / A.A. Bondy / Active Child / Adult Themes / Air Waves / Akudama / Albino Ghost Monkey / Amazing Baby / Andrew Cedermark / Andy T (ex-Deer Tick) / Annie & the Beekeepers / Anything but Animals / Apse / Arches / ARMS / The Art of Shooting / Asa Ransom / Au Revoir Simone / Autre Ne Veut / Ava Luna / Azores / The Babies / Baby Brainwaves / Baby Copperhead / Backwords / Bad Brilliance / Bad Girlfriend / Ball of Flame Shoot Fire / Bebe Fang / The Beets / Beige / Beloved Rogue / Bermuda Bonnie / Big Troubles / Bird of Youth / The Black / The Black Atlantic / The Black Hollies / blair / Blood Warrior / Borrowed Eyes / Bottle Up & Go / Boy Pilot / Boy Without God / BRAHMS / The Brought Low / Bryan Miltenberg (of Unremarkable People) / CALLmeKAT / Callers / The Canon Logic / Cat Martino / Caveman / Chappo / Charles Burst / Chica Vas / Chris Mills / Class Actress / Clay Russell / Cloud Nothings / Coasting / Cream in All Moustache / Cue the Sun / Cults / Dana Jewell (solo) / Dangeroo / Dark Dark Dark / Darlings / deVries / Dinosaur Bones / Dinosaur Feathers / Dinowalrus (DJ set) / The Doctors Fox / DOM / Dream Diary / Drew & the Medicinal Pen / Drink Up Buttercup / Drunken Barn Dance (Scott Sellwood of Saturday Looks Good to Me) / Ducktails / Echostream / Electric Tickle Machine / Elvis Perkins in Dearland / Eternal Summers / EULA / Facsimiles / Family Portrait / Family Trees / Fan-Tan / Fang Island / Federale / Fenech-Soler / The Fiery Furnaces / Fifth Nation / Filthy Savage / FLOOR / Fluffy Lumbers / Forest Fire / The Forms / Frankie Rose & the Outs / The Fresh & Onlys / Fucked Up / Gaucho / Glass Ghost / The Gloominous Doom / Gold Lake / Gold Streets / The Golden Filter / Golden Girls / Gordon Voidwell / Gracious Calamity / Grails / Grandchildren / The Grates / Gray Young / The Great Unwashed / Grooms / GunFight! / The Gypsy West / Harper Blynn / Heavenly Beat (feat. members of Beach Fossils) / Hellfire Machina / Hidden Fees / High Places / Himalaya / HolidayHoliday / The Hollows / Honeychild Coleman / Hooray for Earth / Hot Graves / Human Resources / The Hundred in the Hands / Hussle Club / I Love Monsters / I'm Turning Into / Islands / Jason Loughlin / Javelina / JDDJ3J / J.M. Airis / Jody Porter (of Fountains of Wayne) / John Mulaney / Jucifer / Keepaway / Knife City (Luke Silas of Anamanaguchi) / Kordan / Kris Keyser / La Defense / La Strada / LE-LI / Les Savy Fav / Les Vinyl / Liars / Life Size Maps / Linfinity / Little, Big / The Live Ones / The London Souls / The Long Eye / The Loom / Lost Coves / Love in October / Lower Dens / Lucky Tubb & the Modern Day Troubadours / Lugosi / Luke Folger / Mad Ave Boys / Madison Square Gardeners / Magic Bulb / Male Bonding / Manhate (DJ set) / Marie Stella / Marijuana Deathsquads / Matteah Baim / Max Gabriel / Memory Tapes / MEN (feat. JD Samson of Le Tigre) / Menya / The Menzingers / Midnight Masses / The Midnight Sounds / Milagres (ex-The Secret Life of Sofia) / MillionYoung / MiniBoone / MINKS / Moon Duo / Mr. A*OK / Mr. Dream / My Other Friend / My Teenage Stride / Nebulla / Neighbors / Netherfriends / The New Deal / The New Heaven & the New Earth / No Demons Here (Luka Usmiani of Fluffy Lumbers) / No Fun Acid / North Highlands / Nouvellas / Nueman / The Numerators / Oberhofer / Oh Land / Oneohtrix Point Never / Pacific Theater / Palmyra / Parenthetical Girls / The Pass / Paul & the Patients / PC Worship / Phil & the Osophers / The Pillow Theory / Planet Rump (DJ set) / Polvo / P.O.S. / Posi / The Press / PS I Love You / Psychic / Psychobuildings / The Rabbits / Rad Out / Reading Rainbow / Real Estate / Red Dawn 2 / Red Wire Black Wire / Regal Degal / Ribbons / Rocky Business / Runaway (DJ set) / Say No! to Architecture / Sam Barron / Sam Mickens Sings the Dead Science / Sarah Johnson / Savoir Adore / Schooner / Sean Bones / The Senors of Marseille / Serpenti / She Keeps Bees / Shark? / Shilpa Ray (solo set) / The Shivers / Shoney Lamar / Shy Town / Sic Alps / Silvia Chavez / Sissy Bounce (with Big Freedia, Rusty Lazer & New Orleans Bounce Dancers) / Sisters / Sister Sundown (DJ set) / Skeletonbreath / Skinner Myers / Skotch Davis / Slow Animal / Slow Club / The Smoking Popes / Snakes Say Hisss / The So So Glos / Sondre Lerche / Sore Eros / Soroba / Starlight (DJ) / Starring / Steel Phantoms/ Steve Moore / The Suede Brothers / The Sundelles / The Sutton Street Massacre / Takka Takka / Tame Impala / Thao and Mirah with the Most of All / Tayisha Busay / These United States / Thieving Irons / Tikka Masala (DJ set) / Titus Andronicus / The Tony Castles / Total Slacker / Tough Knuckles / Toys & Tiny Instruments Band / Trans (Jemina Pearl & John Eatherly of Be Your Own Pet; DJ set) / True Womanhood / TV Carnage / Twin Shadow / Twin Sister / Um / Umbrella Men / Union / U.S. Royalty / Vandaveer / VHS or Beta (DJ set) / Viernes / Violens / Wachs Lyrical / The Wave Pictures / Wavves / We Are Country Mice / White Hills / The Wicked Tomorrow / Wizardry / Whopping Crane / Woods / WOOM (ex-Flying) / World Atlas / Wounded Buffalo Theory / YellowFever / Yes Giantess / Young Mammals / The Younger Siblings / ZAZA / Zakee (DJ set) / Zapa Venu / The Zookeepers / and more tba…