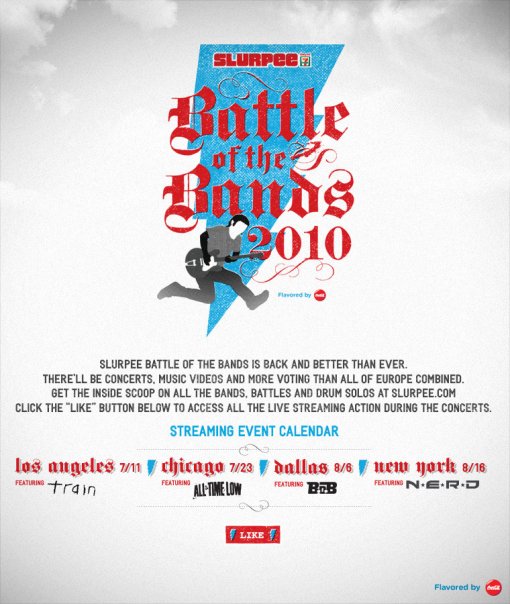 Starting on July 11 (aka 7-11 day), 7-Eleven stores will begin a nationwide battle of the bands competition. In case you're interested in watching a band you might have heard of in addition to your local thrash metal act, the regional battle of the bands concerts will feature competing bands opening for "big name bands" in various cities around the US. The 7-11 Battle of The Bands comes to NYC on August 16 with a show by N.E.R.D. at Irving Plaza for a reasonable $7.11 (tickets are not on sale yet).
Starting this Sunday, the musical groups will begin showcasing their talents and competing for semi-finalist status at four regional concerts. The first takes place Sunday at 7 p.m. PT in Los Angeles at The House of Blues on Sunset Strip where three of the bands will open for a performance by Train, the Grammy Award-winning rock group from San Francisco.

The other venues where the remaining BOTB competitors contend in groups of three with each playing three songs are:

Chicago – July 23 at 7 p.m. CT at The House of Blues in Chicago – leading up to music by All Time Low, an American pop punk band from Baltimore
Dallas – Aug. 6 at 7 p.m. CT at The House of Blues in Dallas – before a performance by B.o.B., an American rapper, singer-songwriter, multi-instrumentalist and record producer from Atlanta
New York – Aug. 16 at 8 p.m. ET at Irving Plaza in New York – opening for N.E.R.D., a genre-bending alternative hip hop group from Virginia, fronted by Pharrell Williams
…
Concert event tickets are on sale through Live Nation for $7.11. Tickets for the Train and All Time Low concerts are on sale now; B.o.B. performance tickets go on sale July 9, and the start of N.E.R.D. concert ticket sales is not yet determined. [PRNewswire.com]
Do you know which city is the Slurpee capital of the world? Answer is after the jump.
Canadians purchase an average of 30 million drinks per year. Despite its status as a very cold city and with a population of only 700,000,[3] Winnipeg, MB was crowned the Slurpee Capital of the World for the tenth time in a row in 2009. 7-Eleven stores across Winnipeg sell an average of 188,833 Slurpee drinks per month. The rest of Canada sells an average of 179,700 per month, which makes Winnipeggers the world leader of Slurpee sales. [Wikipedia]