Natalie Merchant at Town Hall (07/15/10)


Photos: Jon Klemm
Review: David Marx
Natalie Merchant played her first "proper NYC tour dates" in support of "Leave Your Sleep" on Thursday and Friday night (July 15-16) at the Town Hall. Check out Bumpershine contributor David Marx's review of her long gestating new album below.
Natalie Merchant – Leave Your Sleep (Nonesuch)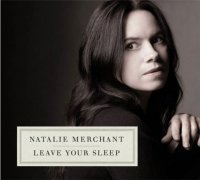 Six years in the making, this most recent album by former 10,000 Maniacs utopian upstart, Natalie Merchant, really is quite something. A double-album of exquisite musicality and brazen poetic interpretation, Leave Your Sleep consists of 25 songs, all of which in some form or another are unique in arrangement and composition.
As such, it ought to come as no surprise that there are the best part of a hundred musicians at play here (among them: Wynton Marsalis, Medeski and The Klezmatics), whose commanding authority and all round listening persuasion, is a resounding, all encompassing and infectious pleasure to behold. The dexterity and the veritable nuance of interaction employed throughout, is something one doesn't hear anywhere near often enough.
To be honest, with the exception of those who play with Tom Waits, and perhaps assorted members of The E Street Band, such regal musical accomplishment is indeed, very, very rare. Thus making for a recording, which could quite possibly be a contender for best, if not the best album of the year.
With lyrics culled from the 19th and 20th Century canons of British and American poetry – including that of Charles Manley Hopkins, Ogden Nash, Robert Louis Stevenson, Robert Graves and Edward Lear to name but a few – these interpretations are of a distinctly mature and varied design. From the elegiac opening of Cornish poet, Charles Causley's 'Nursery Rhyme of Innocence and Experience,' right through to the brave bravura of the closing track 'Indian Names,' one is musically chaperoned through a lush and wonderful head-rush of one sparkling genre after another (after another).
From the twirling, whirling bluegrass of 'Calico Pie' to the Elvis Costelloesque (circa Imperial Bedroom) 'It Makes A Change,' to the oriental infused pearl that is 'The King of China's Daughter,' these songs are nothing other than a tantalising traipse through the elongated park of brilliance – and we haven't even reached the second CD yet…
That the bar is raised so (refreshingly) high is, along with the ravishing beauty of many of the arrangements, to be resoundingly applauded. From intermittent sprightly folk, through to skat-jazz, southern-fried blues and Ukrainian bewilderment, Messrs. Merchant and Andres Levin (who has worked on such a similar project with David Byrne) can feel proud at having co-produced such a colourful album of alluring charm.
To be sure, a synthesis of similarity begins to take (subliminal) hold about halfway through the second CD – what with the occasional over abundance of fiddles'n'banjos'n'tongue-in-cheek recipes of far too many truffles'n'porcupines – but this is ever so resoundingly made up for by such stand-out tracks as 'Adventures of Isabel' and perhaps the most thought provoking track of the lot, 'Griselda.' The latter of which, combines the Merchant of Ophelia's yore, with the effervescence of the here and now.
Other than being synth free (resounding applause please), Leave Your Sleep is simply drenched in flesh and blood, truth and stand-up bass, wisdom and curiosity. What more could you possibly ask for?
– David Marx
More Natalie Merchant tour dates and more photos from the July 15 Town Hall show after the jump.
Natalie Merchant 2010 Tour Dates
07/19 Boston, MA Wang Center
07/20 Philadelphia, PA Merriam Theatre
07/22 Chicago, IL Chicago Theatre
07/23 Milwaukee, WI Riverside Theater
07/24 St. Paul, MN O'Shaughnessy Auditorium
07/26 Grand Rapids, MI Meijer Gardens
07/27 Ann Arbor, MI Michigan Theater
08/03 Denver, CO Ellie Caulkins Opera House
08/04 Salt Lake City, UT Red Butte Garden
08/06 Woodinville, WA Chateau Ste. Michelle
08/07 Goldendale, WA Maryhill Winery
08/09 Saratoga, CA The Mountain Winery
08/10 Santa Rosa, CA Wells Fargo Center for the Arts
08/11 Oakland, CA Fox Theater
08/13 Los Angeles, CA Orpheum Theatre
08/14 San Deigo, CA Spreckels Theatre
08/17 Phoenix, AZ Dodge Theatre
08/19 Dallas, TX AT&T Performing Arts Center
08/20 Austin, TX Paramount Theatre
08/21 Houston, TX Verizon Wireless Theatre
08/24 Clearwater, FL Ruth Eckerd Hall
08/25 Ft. Lauderdale, FL Broward Center for the Performing Arts
08/27 Atlanta, GA Cobb Energy Performing Arts Centre
08/28 Nashville, TN Ryman Auditorium
10/15 Morristown, NJ Community Theatre at Mayo Center for the Performing Arts
Natalie Merchant at Town Hall by Jon Klemm