Rush at Jones Beach (07/24/10)


Photos: Geoff Green
Let's give a warm Bumpershine welcome to sharp shooter Geoff Green and jam band and prog rock enthusiast by night and advertising professional by day, Brad Mislow. This is Brad's first review for Bumpershine and Geoff's first pictorial (which was totally done in a classy way, without too much skin showing) — hopefully, the first of many for this dynamic duo.
Rush at Jones Beach
Saturday, July 24, 2010
By Brad Mislow
To understand the appeal of a Rush show, you must first understand the basic makeup of the male mind: a love of well-played, preferably loud rock music, an endless vault of inside jokes, a selection of randomly recited quotes from Monty Python or some other sketch comedy group, a preference for sci-fi novels, a general lack of understanding of girls and a desire to play drums like Neil Peart. As a personality begins to solidify in a teenage boy's mind is when Rush is most likely to enter the picture. And once it does, it won't leave. Not that any of the mostly male crowd who attended their July 24 concert at Long Island's Nikon at Jones Beach Theater would want it to.
If you haven't noticed, Rush – and its fans – are finally getting some respect after getting practically none of it since Rush entered the music world with its 1974 self-titled album. Meanwhile in 2010, guitarist Alex Lifeson, bassist/keyboardist/high-note lead man Geddy Lee and drum god Neil Peart are the subject of Behind the Lighted Stage a documentary about the band's history and under-the-radar popularity. The film debuted at New York's Tribeca Film Festival this April, and made the rounds on VH1. Rush made their first American television appearance in decades as guests on The Colbert Report. A YouTube clip of them playing "Tom Sawyer" on Rock Band backstage at that show got some serious clickage. Then there's "I Love You Man", last year's movie about male friendship and how much Rush can mean between two dudes. More than some chick, I can tell you that.
A Rush concert is more than watching three old Canadians belting out progressive rock songs from the heyday of classic rock (even though the name of this tour is the Time Machine Tour in which they play all to their 1981 album Moving Pictures…more of that later). Rush concerts have always been a feast for the eyes as well as the ears: lights, lasers, pyrotechnics, original film and animation and a slew of pop-culture references. In the 1980s (when I first saw Rush through my own teenage eyes), the theme from "The Three Stooges" would be heard before the band dove into the opening number. Artsy and humorous videos would play on big screens. At the time it felt like you were inside what MTV would have felt like (when MTV was Music Television, not a reality TV storage unit). Rush shows now have evolved to incorporate giant HD screens, CGI animation, downright wacky stage props and bizarre extras walking across the stage. Yes, fans, that was a man in a sausage-in-a-bun costume rolling a shopping cart full of corn and placing it in an oversized wok on top of Geddy Lee's rig of equipment. Like I said, Rush fans love the inside jokes. They get it (I think).
More of Brad's in-depth review and more pictures of Rush at Jones Beach after the jump.
Rush at Jones Beach by Brad Mislow cont'd
Now, onto the music. There were times I wish I had multiple sets of eyes to watch each band member's superior musicianship that reigned for the show's three plus hours. Let's face it – no one, I mean no one, has the chops like this power trio. Geddy is a monster on bass and can still hit those vocal highs as well as ever. Alex shreds with delight and just downright owns the whammy bar – on a Gibson, no less. And Neil Peart's drumming is as amazing as every bathroom graffiti scrawler says it is. The men in Rush deserve each other. When all three fire all cylinders at once, forget it. There is no rock concert like it. Tight. Precise. Fuel injected. Instant gratification to satisfy the male need to rock, hard.
The feature presentation of the night was the performance of the mega-popular 1981 Moving Pictures album played in its entirety, which they did very well. Although there was something very gratifying in hearing the concert staples "Tom Sawyer", "Red Barchetta", "Yyz" and "Limelight" in succession, it was the rarely played "The Camera Eye", "Witch Hunt" and "Vital Signs" that really gave its fans a thrill. These are the deep cuts, the ones that are worth a full play of the album. Those songs were a much appreciated nod to the fans from the band. And the crowd was indeed grateful. "The Camera Eye", a song about the fast-paced life of New York, was received especially well by this crowd of Long Islanders and reverse-commuting New Yorkers. The song's accompanying video shows black and white footage of Manhattan skyscrapers and time-lapsed Gotham street scenes. It fit the moment for this crowd, many of whom had to come this far out of the city to catch their rock gods in the act, live.
Throughout the band's set, the inside jokes were abundant and scattered all over the place. Before each song, the video screens played animations featuring details of the Moving Pictures album cover art coming to life to demonstrate the song being played. Three men in orange jumpsuits climbed Toronto buildings, packed in a racecar numbered 2112, wore orange pylons as witch hats as shouts of "bring out your dead" were overheard. Even nuttier, three leggy extras dressed in skimpy German drindls holding trays of beer pitchers catwalked across the stage at various times to demonstrate the band was "moving pitchers" (get it? Get it?).
Other Rush songs over the years have held up surprisingly well. "Marathon" and "Time Stand Still" from the synthy-80s don't sound as out-of-place as they did in the actual 1980s, compared to the guitar-bass-drum driven songs like "Free Will" and "The Spirit of Radio." Seeing how the band is rounding out its fourth decade of rock-awesomeness, the bits from their middle period have a solid home in Rush history, and in the current set list.
The band was also trusting enough to debut a few new unreleased songs ("Caravan" and "BU2B") that they explained will be coming out on their forthcoming album, Clockwork Angels, in 2011. Rush has the luxury of having built a fandom of listeners who will accept hearing a few new tunes (which were well-received, mind you) knowing good and well their patience will be rewarded with a meaty dose of "2112 Overture" or "La Villa Strangiato."
To end the night, the band begin "Working Man" as a reggae tune(?!?) before tearing into its original mind-melting form, cerca 1974. Again, the audience, although temporarily confused, went with it. As the band left the stage, a short film played starring Paul Rudd and Jason Segel revising their "I Love You Man" characters as two Rush fans who made into the Holy of Holies, Rush's dressing room backstage. When the band appears, talking about how many girls they saw in the audience, one of them sums up the whole experience with one understated line, "seven girls at a Rush concert? That's a record."
Inside jokes rule the night. And once again, the band shares the last laugh.
Rush at Jones Beach (07/24/10) by Geoff Green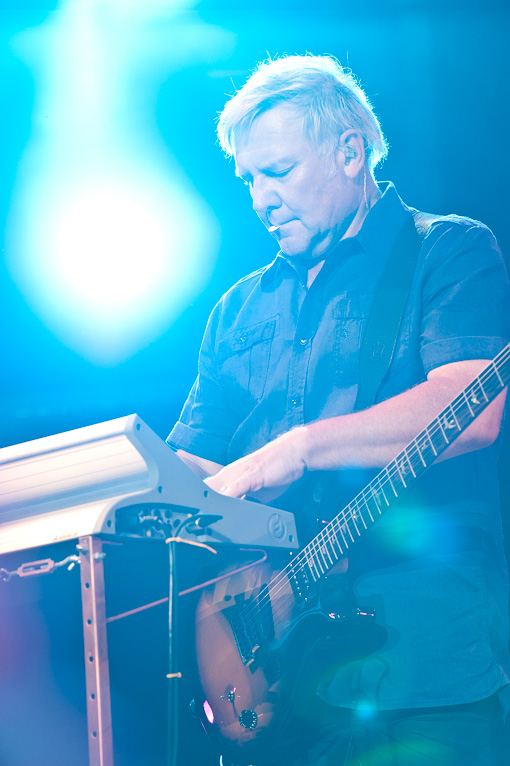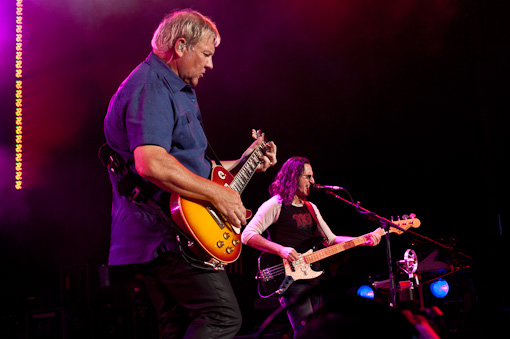 PS "Who is Brad Mislow?"