Eugene Mirman and Bobby Tisdale at EMCF (09/25/08)


Photo: Tim Griffin
Fall is around the corner, and that can only mean one thing, it's time for the third annual Eugene Mirman Comedy Festival at The Bell House. This year's fest will be held on Sep 16-19, 2010 and features an all TBA lineup! As I mentioned before, the 4th Anniversary of Tearing The Veil of Maya is also taking place at the Bell House on Sunday, Aug 1 (Buy Tickets).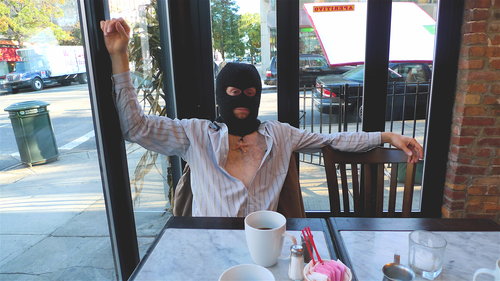 Photo: DE(B)LOG(C)ATED
Though it hasn't been announced yet, it's a good bet that Jon Glaser, the masked and eponymous star of Delocated will be on the bill at this year's EMC Fest. Starting on Aug 22, you can catch "Jon" and Eugene (aka the Russian hitman/comic Yvgeny) in all new half hour episodes of Delocated on [Adult Swim].
…Delocated follows "Jon," a jerky suburbanite who puts his family in the witness-protection program after pissing off the Russian mob, only to wind up divorced and bitter. Since his new life is being documented for a reality series, Jon has to keep his face and voice disguised at all times (he sounds a little like a post-stroke Darth Vader).
…
Even with all the bizarro plot twists, nothing tops the ingenious device of acting through a ski mask. Glaser's ability to express sarcasm and world-weariness through a series of half-lidded stares, puckered exhalations, and skeptical head-cocks is stunning. It's a deeply lived-in physical performance, and so is the mask, which Glaser has been wearing since he started working on the role in 1997. "I don't think I've washed it once. I don't want to take the chance of destroying it," he says. "It's pretty disgusting. When this season's through, I'll do a bunch of delicate hand washes." [NYMag.com]