Jimmy Cliff at SummerStage (07/11/10)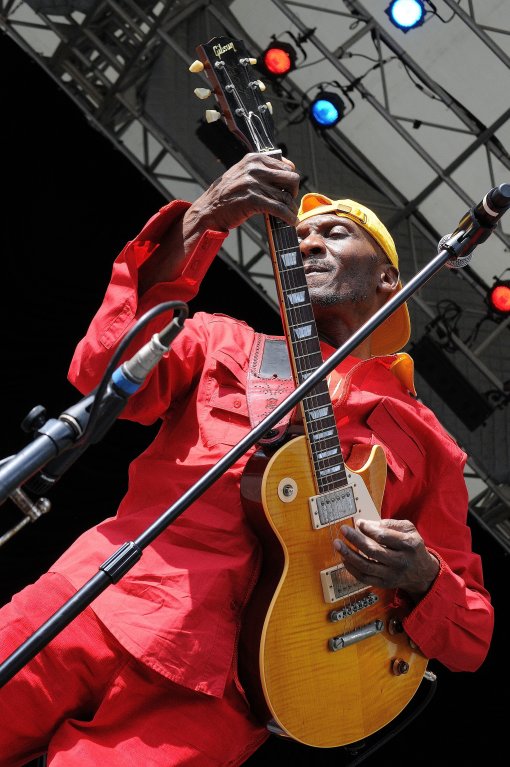 Photo: Chris Becker
Jimmy Cliff was truly amazing. This was my first reggae concert, and it was a great place to start. Cliff is one of reggae's superstars, a founder of roots reggae and star of an awesome film called The Harder They Come, which has an even more awesome soundtrack. Even at age 62, the man still knows how to dance, and was a portrait of the consummate performer. He often spoke to the crowd, sometimes discussing political issues like Afghanistan (he changed the song "Vietnam" to "Afghanistan") or the Gulf disaster, and was constantly getting us to sing refrains or clap our hands. He even quoted The Harder They Come before he played the title track: "Don't-fuck-with-me!!!!" The set list included hits such as "Wonderful World, Beautiful People," "Sitting in Limbo," covers of "I Can See Clearly Now" and "Wild World," and a really kickass song called "One More" which I assume must be from his upcoming new album, Existence. The show ended with "Bongo Man," performed almost exclusively on drums, which also segued into "Rivers of Babylon." Afterwards the band (which was massive- guitarist, bassist, two keyboardists/samplers, trumpeter, saxophonist, drummer and an additional percussionist, and a female back up singer) came on for an extended encore, and left the stage one at time after performing solos, until only the bassist was left, slapping away happily. The concert summed up everything that reggae seems to be about in my opinion: political commentary, dancing, weed (there was a lot of that going around), and above all, happiness and love. I think what makes the genre so great is that while it is very distinct to one culture, it's still something people of all races and ethnicities can appreciate. [Alex Hilhorst]
If that review sounded good to you, you can check out Jimmy Cliff in nearby Bridgeport, CT at the annual Gathering of the Vibes festival which finishes up on Sunday (Aug 1). Dr. Cliff goes on at 5PM, so you can probably still make it home in time for Mad Men.
More pictures of Jimmy from SummerStage as well as opening acts Victor Deme and Trevor Hall after the jump.
PS If you can't make it out to the GOV show and you'd like a taste of Jimmy Cliff live, you can watch his NPR Tiny Desk concert over here.
Jimmy Cliff at SummerStage by Chris Becker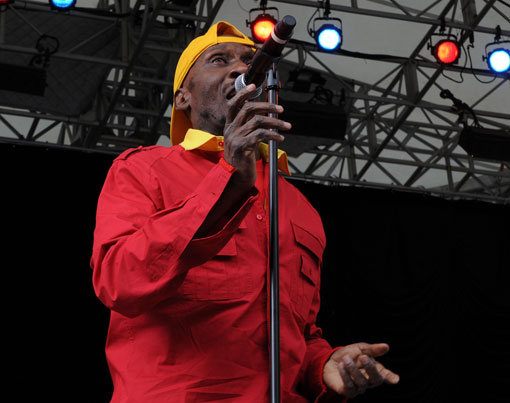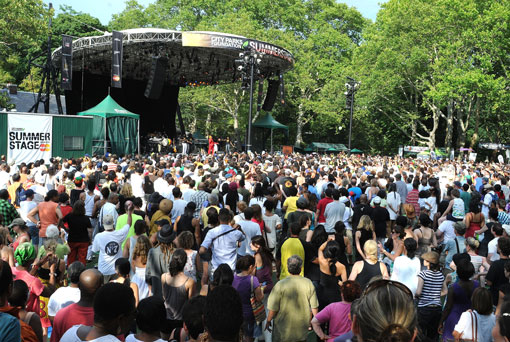 Jimmy Cliff Set List at Central Park Summerstage (07/11/10)
1. Wild World
2. One More
3. Save Our Planet (crowd)
4. The Harder They Come
5. Many Rivers To Cross
6. I Can See Clearly Now
7. Rivers of Babylon
Victor Deme at SummerStage by Chris Becker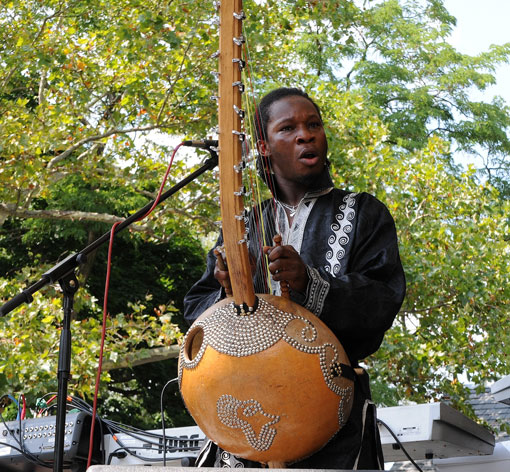 Trevor Hall at SummerStage by Chris Becker