Regina Spektor at The Beacon Theatre (06/17/09)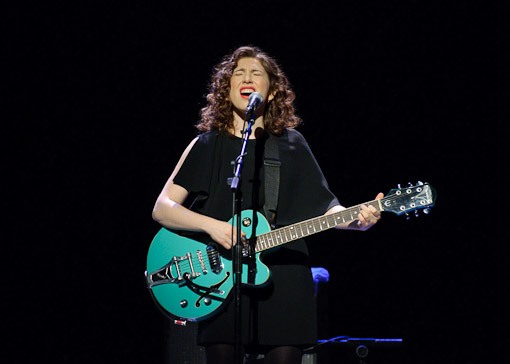 Photo: Jon Klemm (More)
This year's New Yorker Festival will take place on October 1-3, at various venues throughout New York City. Here is a partial list of this year's festival speakers based on some recently published "blind items" in New Yorker Festival's blog:
Q: Which multi-Emmy-winning sitcom actor once co-wrote an episode of "Law & Order" about a murdered gossip columnist?
A: Alec Baldwin

Q: Which prolific fiction writer was inspired to write one of her earliest short stories by the Bob Dylan song "It's All Over Now, Baby Blue"?
A: Joyce Carol Oates

Q: Which film director was shot in the abdomen during an interview with the BBC—and continued the interview anyway?
A: Werner Herzog

Q: If given the chance, which award-winning fiction writer says that she would like to befriend Mercutio to stop him from getting killed?
A: Stumped Me!

Q: Which character actor took the name for his famous alter ego off a harmonica?
A: Paul Reubens aka Pee-Wee Herman

Q: Which chanteuse found she had a knack for songwriting while hiking through Israel as a teen-ager?
A: Regina Spektor
The full 2010 New Yorker Festival schedule will be revealed on September 6, 2010. If you sign up for Festival Wire, you'll get the full schedule a week early.
PS Frequent New Yorker Festival speaker Edwidge Danticat will also be at this year's fest.