2010 Virgin Free Festival Schedule (09/25/10)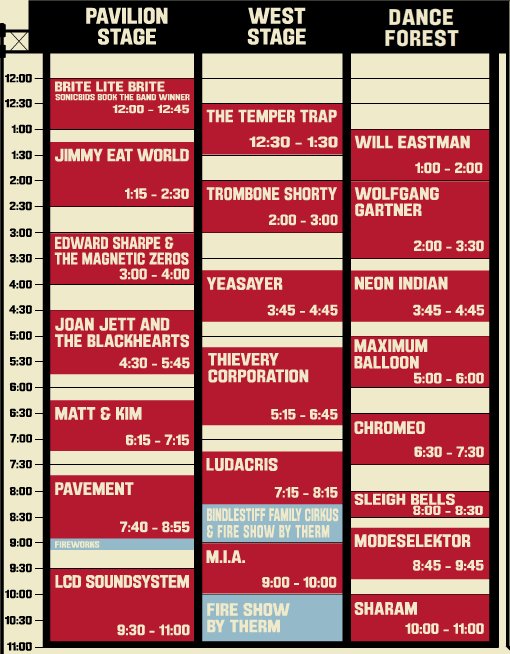 In case you forgot, Saturday, September 25 is the 2010 Virgin Free Festival. Although they were part of the initial announcement, Southern rapper T.I. and South African blog sensations Die Antwoord are conspicuously absent from the final lineup.
Check out the full schedule in words after the jump.
PS Jon Klemm will be on the ground at VFF for bumpershine this year.
2010 Virgin Free Festival Schedule (Sep 25, 2010)
Pavilion Stage
noon-12:45 p.m. – Brite Lite Brite
1:15 p.m.-2:30 p.m. – Jimmy Eat World
3 p.m.-4 p.m. – Edward Sharpe & The Magnetic Zeros
4 p.m.-4:30 p.m. – High tea toast with Jeremiah Weed
4:30 p.m.-5:45 p.m. – Joan Jett and the Blackhearts
6:15 p.m.-7:15 p.m. – Matt & Kim
7:40 p.m.-8:55 p.m. – Pavement
9:30 p.m.-11 p.m. – LCD Soundsystem
West Stage
12:30 p.m.-1:30 p.m. – The Temper Trap
2 p.m.-3 p.m. – Trombone Shorty
3:45 p.m.-4:45 p.m. – Yeasayer
5:15 p.m.-6:45 p.m. – Thievery Corporation
7:15 p.m.-8:15 p.m. – Ludacris
8:15 p.m.-9 p.m. – Bindlestiff Family Circus & fire show by Therm
9 p.m.-10 p.m. – M.I.A.
10 p.m.-11 p.m. – Fire show by Therm
Dance Forest
1 p.m.-2 p.m. – Will Eastman
2 p.m.-3:30 p.m. – Wolfgang Gartner
3:45 p.m.-4:45 p.m. – Neon Indian
5 p.m.-6 p.m. – Maximum Balloon
6:30 p.m.-7:30 p.m. – Chromeo
8 p.m.-8:30 p.m. – Sleigh Bells
8:45 p.m.-9:45 p.m. – Modeselektor
10 p.m.-11 p.m. – Sharam
– Text version via The Baltimore Sun