Kurt & Kristen at Tinkle at Southpaw (07/13/07)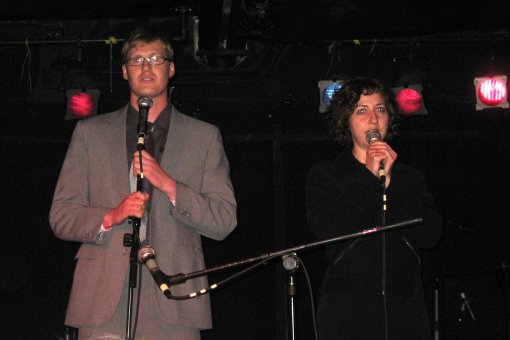 Hey folks, it's been a while since I've done one of these, but it's a big week for comedy, so here you go:
Seth Herzog's long running Manhattan comedy show SWEET has found a new home over at Arlene's Grocery on the Lower East Side. The first show at the new venue is this Wednesday night (Sep 29) at 10PM and the guests are: Jeff Ross, Jordan Rubin, Dave Hill, Seth Herzog and Special Guests!
The Emmy winning Sara Schaefer is taking her popular weekly comedy show, Get Off Your Knees to DownSouth at SouthPaw (aka the basement room). The first show at the new location is on Tuesday (Sep 28) of this week at 8PM and it features Wyatt Cenac, Kristen Schaal, Nick Turner, Sara Schaefer and more.
Since last month, Hot Tub with Kurt and Kristen has taken up permanent residence over at Littlefield in Gowanus on Monday nights. This week's show features Heather Lawless, Maeve Higgins, Marcus Monroe, Todd Margaret and your hosts Kristen Schaal and Kurt Braunohler.
Here's what else is happening in comedy this week (Sep 27 – Oct 3):
Tell Your Friends @ Lolita Bar w/ Hannibal Buress, John Fugelsang, Liam McEneaney, Rob Paravonian and Aparna Nancherla (09/27)
Whiplash! @ UCB w/ John Oliver, Josie Long, Sean Patton, Rory Scovel, Nate Bargatze, Jarrod Harris and Myq Kaplan (09/27)
Punch Up Your Life @ Housing Works w/ Yannis Pappas, Adam Lowitt, Joe DeRosa and Jared Logan (09/28)
Big Terrific @ Cameo Gallery w/ Max Silverstri, Gabe Liedman, Jenny Slate and Special Guests (09/29)
The Daily Show and Friends @ Comix w/ Greg Giraldo, Rory Albanese, Kevin Bartini, Spencer King, Adam Lowitt and Jenna Kim Jones (09/29)
RISK! DREAMS: Adventures in the Unconscious @ 92YTribeca w/ Emily Gould, Kurt Braunohler, Matt Higgins, Joe Mande and Kevin Allison (09/30 – 7:00PM)
Comedy As A Second Language @ Kabin w/ Chesley Calloway, Sean Patton and Special Guests (09/30)
Comedy Below Canal @ 92YTribeca with Craig Baldo, Costaki Economopoulos, Sean Patton and The Found Footage Festival (09/30 – 9:00 PM)
Dave Hill Explosion @ UCB w/ John Hodgman and Diamondsnake ft. Moby (09/30)
Comedy Night @ Knitting Factory w/ Hannibal Buress and friends (10/03)
Last but not least, Tearing The Veil of Maya returned to Union Hall last night (Sep 26) and Demetri Martin was the special guest. The next show will be on October 3 (I think).