Big news folks, Bob Dylan and his band are playing a three night stand at midtown's very own Terminal 5. I just may have to return to the venue for the first time since opening night!
Bob Dylan Terminal 5 Dates
11/22/10 Bob Dylan and His Band at Terminal 5 (Presale: 10/5 On Sale: 10/8)
11/23/10 Bob Dylan and His Band at Terminal 5 (Presale: 10/5 On Sale: 10/8)
11/24/10 Bob Dylan and His Band at Terminal 5 (Presale: 10/5 On Sale: 10/8)
In other Bob related news, two major reissue projects are coming out on CD and vinyl in a little under 3 weeks from now.
The Witmark Demos features 47 Bob Dylan songs recorded by the artist accompanied only by his acoustic guitar, harmonica and occasionally piano on 2 CD or 4 LP 180-gram vinyl. All of these songs were written – and their subsequent demos recorded – before Bob Dylan turned 24 years old.

Among the many gems are 15 Bob Dylan songs that were recorded by the artist only for these sessions, and which have never been officially released to the public until now. These include the plaintive "Ballad For A Friend," the civil rights era-inspired "Long Ago, Far Away" and "The Death Of Emmett Till," and the poignant "Guess I'm Doing Fine."
…
The Original Mono Recordings is comprised of Bob Dylan's first eight long-playing albums, painstakingly reproduced from their first generation monaural mixes as the artist intended them to be heard: one channel of powerful sound, both direct and immediate. While stereo recordings had been available as early as the mid-1950s, mono was still the predominant – and often preferred – mode of recording and mixing by the top artists of the 1960s. [BobDylan.com]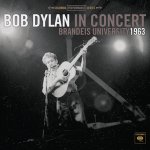 People who pre-order The Witmark Demos: 1962-1964 (The Bootleg Series Vol. 9) on CD or vinyl, or The Original Mono Recordings on CD or vinyl at amazon.com will receive the CD, Bob Dylan: In Concert, Brandeis University, as an added bonus. The Brandeis performance has never been heard, bootlegged or circulated in any way. It was taped on May 10th, 1963, at Brandeis University's first annual folk festival.
This offer is limited to pre-orders only and will not be available after 10/18/2010.
*Quantity limits per title may apply
More Bob Dylan tour dates after the jump.
Bob Dylan 2010 Tour DatesS
10/06/10 Ft. Lauderdale, Florida – Nova Southeastern University
10/07/10 Tampa, Florida – University of South Florida
10/08/10 Gainesville, Florida – University of Florida
10/10/10 Orlando, Florida – University of Central Florida
10/11/10 Tallahassee, Florida – Leon County Civic Center
10/13/10 Birmingham, Alabama – BJCC Concert Hall
10/14/10 Charlotte, NC – University of North Carolina
10/16/10 Winston Salem, North Carolina – Veterans Memorial Coliseum
10/17/10 Clemsen, South Carolina – Clemsen University
10/19/10 Nashville, Tennessee – Municipal Auditorium
10/21/10 St. Louis, Missouri – St. Louis University – Chaifetz Arena
10/22/10 Champaign, Illinois – University of Illinois
10/24/10 Cedar Falls, Iowa – University of Northern Iowa
10/25/10 Madison, Wisconsin – Overture Hall (2 shows)
10/26/10 East Lansing, Michigan – Michigan State University
10/28/10 Ann Arbor, Michigan – University of Michigan
10/29/10 Kalamazoo, Michigan – Western Michigan University
10/31/10 Indianapolis, Indiana – Murat Theatre
11/02/10 Akron, Ohio – University of Akron
11/03/10 Highland Heights, Kentucky – Northern Kentucky University
11/04/10 Columbus, Ohio – Ohio State University
11/06/10 Rochester, New York – Rochester Institute of Technology
11/07/10 Pittsburgh, Pennsylvania – University of Pittsburgh
11/09/10 State College, Pennsylvania – Penn State University
11/10/10 Charlottesville, Virginia – University of Virginia
11/12/10 Bethlehem, Pennsylvania – Lehigh University
11/13/10 Washington, DC – George Washington University
11/14/10 West Long Branch, New Jersey – Monmouth University
11/17/10 Binghamton, New York – Binghamton University
11/19/10 Amherst, Massachusetts – University of Massachusetts Amherst
11/20/10 Lowell, Massachusetts – University of Massachuletts Lowell
11/22/10 New York, New York – Terminal 5
11/23/10 New York, New York – Terminal 5
11/24/10 New York, New York – Terminal 5