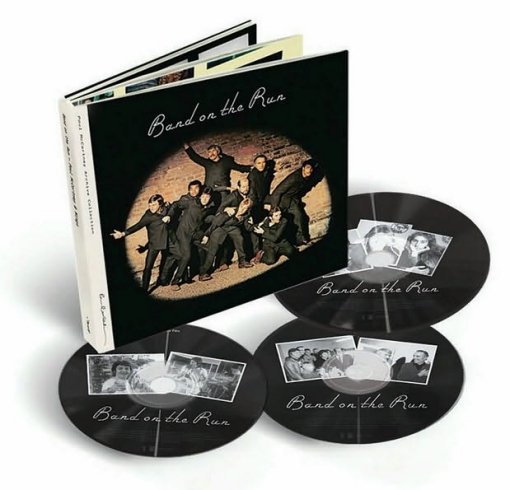 Some 37 years after its initial release, Band On The Run still stands the test of time and remains one of Paul McCartney's finest accomplishments outside of the confines of the Fab Four. Last Tuesday, Concord Music Group re-released the iconic 1973 Wings album in several configurations including: standard CD, special edition (2 CD/DVD), deluxe (3 CD/1 DVD) and vinyl and high res audio.
As is the case with most reissues, you always must ask yourself the question, "Do I want to pay for this record for the second or third time?" Of course, if you don't own a copy already, it's certainly worth picking up a copy of the "new" album just for the original music and the enhanced fidelity of the newly remastered discs. The 9 bonus audio tracks on the second CD are certainly enticing in theory, but those of you looking for a treasure trove of unreleased McCartney singles might be a little disappointed. I have to admit I was hard pressed to distinguish the "alternate" versions of the album tracks from the originals upon casual listening. The DVD on the other hand, is fairly intriguing, and in my opinion, tips the scales in favor of repurchasing this album. With several period (?) music videos, behind the scenes video of the album cover shoot, archival footage from Lagos and video footage of over a dozen songs recorded for the One Hand Clapping documentary (including a full orchestra version of "Live and Let Die"), it's one of the few music related videos I've been able to sit through in its entirety and actually enjoy.
Download "A Trip To Lagos" featuring Paul McCartney and Wings and enter the contest to win a copy of the special edition 2CD/DVD version of Band On The Run after the jump. Contest ends November 15 at midnight, US residents only.
Band On The Run Special Edition
– The original 9-track #1 album, remastered at Abbey Road Studios in London
– 9 bonus audio tracks, including the hit single 'Helen Wheels'
– DVD disc includes music videos, rare footage of the McCartneys in Lagos, behind-the-scenes at the album cover shoot in London's Osterley Park, as well as the One Hand Clapping television special highlighted by studio performances at Abbey Road in 1974
– 3 disc (2 CD, 1 DVD) in enhanced packaging featuring additional photos, new liner notes by Paul Gambaccini and lyrics