Black Angels at MHOW (11/04/10)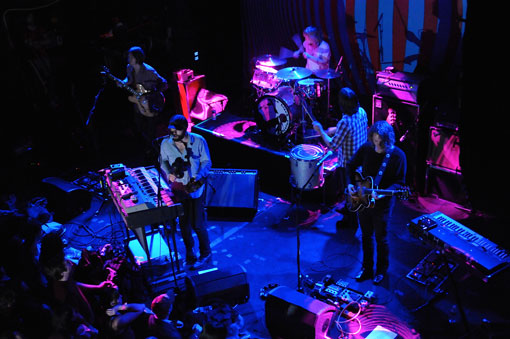 Photo: Chris Becker
The Black Angels are releasing an exclusive Record Store Day DVD this Friday featuring the songs of Roky Erickson. There will be a special sneak preview of the DVD today at 3PM ET on their Facebook page.
It's no secret that Austin psych-rockers The Black Angels were influenced by fellow Austinites 13th Floor Elevators, the underrated late sixties group that is often credited with the birth of American psychedelia. 13th Floor Elevators' frontman, Roky Erickson, did a couple of stints in mental institutions in the early seventies after being diagnosed with paranoid schizophrenia, and he stopped performing live for many years as a result of his illness. In 2005, however, Roky began slowly performing again, doing a handful of Austin gigs before branching out to New York City and Europe a couple of years later. In 2008, The Black Angels performed 13th Floor Elevators songs with Roky which hadn't been performed in decades in Dallas, with the memorable performance resulting in a subsequent West coast tour. Today, The Black Angels are excited to announce the upcoming DVD release of Night of the Vampire, which captures a special 2008 performance from the El Rey Theater in Los Angeles on Halloween night.

Night of the Vampire will be released as a Record Store Day indie exclusive on Black Friday, November 26th, but for a sneak peek, fans can tune in to The Black Angels' Facebook page (http://www.facebook.com/theblackangels.tx) on Monday, November 22nd at 3:00pm EST/12:00pm PST to watch the performance streaming in its entirety. The stream will not be archived, so mark your calendars now.
Check out the Night of the Vampires track list and more pictures of The Black Angels at MHOW after the jump.
Night of the Vampire Track List
01 Intro into Roky Erickson's "Bo Diddley's A Headhunter"
02 Collaboration Sequence set to The Black Angels' "Science Killer"
03 Roky Erickson's "Two Headed Dog"
04 Halloween Costume Sequence set to The Black Angels' "Mission District"
05 Roky Erickson's "Night Of The Vampire"
06 Roky Erickson's "You're Gonna Miss Me"
07 Roky Erickson's "Splash 1"
08 Roky Erickson's "Creature With The Atom Brain"
09 Roky Discussion into Encore Sequence set to The Black Angels' "Never Ever"
10 Roky Erickson's "Roller Coaster"
11 Roky Erickson's "Reverberation" over End Credits
Black Angels by Chris Becker