Since I'm running out of time on dry land, I thought I would post the shortest portion of this gift guide next. While I do like gadgets, I can't say I've been reading engadget religiously lately, so there are really only a few things on my post-Chanukah wish list this year.
Roku

I have Roku at home and I have found it to be a consistently excellent product. There is tons of content available for it (Netflix, Amazon VOD, Hulu+, Vimeo, YouTube and a host of other specialty channels), it rarely drops a signal, was a breeze to set up and the picture quality is surprisingly good. This year Roku has upped the ante and made their devices smaller, cheaper and added higher resolution. For $59.99 you absolutely can't go wrong with the Roku HD and if you'd like the top-of-the-line XD|S model you can get $10 until December 20. Cable companies beware, pretty soon we'll all be dropping you like flies!
Other entries in this red hot space include the revamped AppleTV which boasts tight iTunes integration in a sexy little box, the much hyped Logitech Revue with GoogleTV, and the long awaited Boxee Box by D-Link.
Virgin MiFi 2200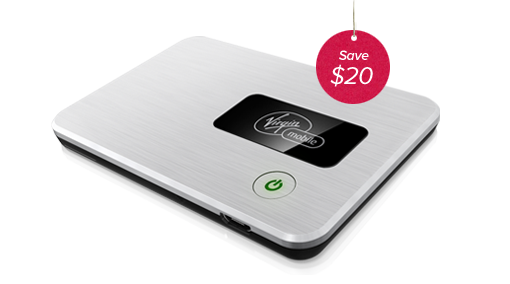 This babies have selling like hotcakes ever since David Pogue practically drooled all over one in his NYTimes review. What's not to like really, unlimited nationwide 3G Internet access for $40/month via Sprint's network. They initially went for $149, then they sold out everywhere and the price went up to $199 at Best Buy and Walmart. Right now you can "steal" one for $129 at VirginMobileUSA.com with free shipping to boot, get it while you still can folks!
I'm always looking for something useful and convenient to hold my massive mp3 collection and last year I thought I had found the golden ticket when I picked up my 64GB iPod Touch. At the time of purchase, I didn't think not having a camera was such a big deal since I rarely use a phone camera to take important pictures. However, after using the iPod Touch for a year I realized that the importance of the camera is not so much in taking pictures of your friends and loved ones, (though the iPhone is hugely popular in this respect), but more for extending your device in order to take advantage of cool and useful apps like Bar Code Readers, Google Goggles, and Word Lens, the amazing real time sign translation tool.
iPad
Though it seems like it has been around forever, let's not forget that the iPad only came out in April of this year. I'll admit I was a skeptic at first (tablet PCs have been around forever after all), but after I playing around with one, I can certainly see the appeal. They are certainly fun and useful, but I think I'll wait for gen 2 this times so I can get my camera and maybe a few less ounces in my pocket.
Kindle
I must admit, I have long been puzzled by the Kindle, after all, why would I want to trade in my beloved bookshelf (and all of its intellectual connotations) for a piece of plastic with an LCD screen. While I still have a hard time letting go of the physical object and all its associated charms, I'd much rather be toting an 8.5 ounce Kindle DX then 2.6 lbs of Keith Richards' Life.
Nook Color

Let's face it, the original Nook was always a distant runner-up to Amazon's Kindle, but now with the addition of color, there is a real competition heating up for the crown of America's favorite ereader. Before color came along B&N employees would tell you that the Nook was better because it used open source ebooks, but I don't think the average consumer was entirely won over by that argument. Color, however, is a game changer, and I think for a short period of time, the Nook might have the upper hand on its online rival. That advantage might not last for long though as color has already come to e Ink screens (the technology used in a Kindle device) and it's surely just a matter of time before Amazon breaks out the Kindle Color and the pendulum shifts back the other way.
Magazines
I know old fashioned print doesn't really fit in this high tech category, but hey, I'm all about busting conventions right? It's been a few years now since I made the switch from TONY to New York Magazine and I gotta tell you, I've never looked back. Sure TONY still has better listings, but NYMag trumps TONY in almost every other way, with top notch features, interesting interviews and of course, The Approval Matrix. I enjoy the physical magazine on my commute, but for those of you who don't like to get your fingers dirty, they've also got one of the best magazine websites in the business.