The Feelies at ATP NY 2009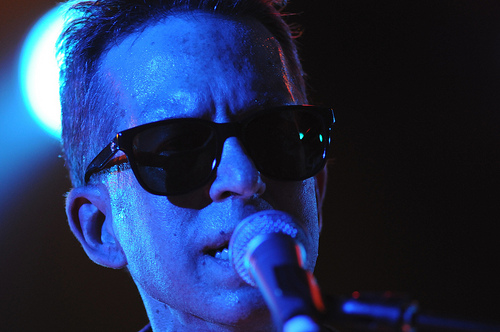 Photo: Abbey Braden/PunkPhoto
Since my tweet about The Feelies upcoming new record, Here Before, caused "mass hysteria" when it went out on Friday, I figured I'd do some lazy blogging and follow up with the entire press release.
After a 19 year break, the Feelies are back with Here Before an album of all new original material on Bar/None Records. The new album touches on different styles from the Feelies' long history while adding new grooves and musical ideas to the mix. Electric and acoustic guitars melt together in archetypal Feelies fashion on songs like "Nobody Knows" and "Should be Gone. " Elsewhere there are slabs of driving garage rock like "When You Know" and "Time Is Right" and the down-tempo "Bluer Skies," and harmonically rich "Later On."

Here Before was recorded at Water Music in Hoboken, New Jersey produced by Feelies founders Glenn Mercer and Bill Million. Besides Glenn on rhythm/lead guitar and lead vocals, and Bill on guitar and vocals, the album features Feelies mainstays Brenda Sauter (bass, vocals), Stanley Demeski (drums), and Dave Weckerman (percussion).
Read the rest of the press release after the jump.
The Feelies quickly became one of the most zealously touted acts on the highly competitive late 70s New York scene and underground heroes in their native New Jersey. They were signed to the trendsetting British label Stiff and released their debut album Crazy Rhythms in 1980. Rolling Stone, Spin and countless other magazines would eventually declare the album one of the greatest of that era but it was not a commercial success upon its initial release. The Feelies soon felt stifled by their dealings with Stiff and took a six year "hiatus" from recording while its members continued to write, record and perform together and in collaboration with friends and neighbors under names like "the Trypes," "Yung Wu" and "the Willies." Feelies' music wound up in a number of films including Smithereens and Jonathan Demme's Something Wild.

The Feelies proper re-emerged with a new rhythm section (the line-up they've had ever since and that appears on Here Before) in 1984 and recorded The Good Earth, co-produced by Million, Mercer and REM's Peter Buck). The album was released 1986 on the Coyote label (run by Steve Fallon, owner of Hoboken, NJ's Maxwells, and the group's manager for a spell), followed by two further releases on Coyote through Twin/Tone/A&M: Only Life (1988) and Time For A Witness (1991). The band shared bills with Patti Smith, LouReed, REM and Bob Dylan during this period and toured nationally.

In 1992 Bill Million left the music business, moving his family to Florida and effectively putting the band on what turned out to be a very long hiatus. Meanwhile, Glenn and Dave continued playing together in Wake Ooloo, Stanley was a founding member of the band Luna and Brenda played in a number of groups including her own Wild Carnations. Glenn Mercer put out his first solo album in 2007.

In 2008, the Feelies re-united to open for long time admirers Sonic Youth at Battery Park and then resurrected their tradition of playing low key gigs around national holidays (many at their old home base, Maxwell's) rather than doing lengthy tours. In 2009 Bar/None re-issued Crazy Rhythms and The Good Earth, this being the first band-sanctioned CD release of the former; both titles were also issued on heavyweight vinyl and with download cards for access to bonus tracks. A highlight of the All Tomorrows Parties festival in New York state that year was the Feelies playing Crazy Rhythms in its entirety for the very first time. They also introduced new songs written by Mercer and Million raising fans' hopes for a new album eventually materializing.

In 2010, using the basement studio in Mercer's New Jersey home, Glenn and Bill resumed writing songs and working out arrangements for new Feelies songs in the midst of rehearsals for live shows in Boston, Philadelphia and D.C. with Bill commuting back and forth from Florida for this. By Fall that year, the band had worked up 13 songs. Basic tracks were cut at Water Music in October with the classic Feelies line-up of Mercer, Million, Demeski, Sauter and Weckerman; tracking dates were engineered by Sean Kelly who also helped out with overdubbing sessions in November and mixing in December. In addition to their main instruments Brenda played violin and sang backup vocals, Glenn contributed keyboards and Bill, Stan, Glenn and Dave all pitched in on percussion.

Many of their fans probably didn't think they would ever get a chance to see the Feelies perform again let alone have a new album in their hands. Here Before adds a solid fifth album to the Feelies discography. The album will be released digitally as well as on CD and vinyl with a download card.