"One Step Beyond" w/ Scissor Sisters and DJ Activaire at AMNH (02/04/11)


Photos: Onarato-Wixom
Dancing With the Stars: One Step Beyond at AMNH with Scissor Sisters
by Amber King
Have you ever been to a prom where the theme was "Underneath the Stars"? Because the American Museum of Natural History's monthly danceteria, One Step Beyond, is kind of like that. In fact, it's a bit reminiscent of old-school episodes of the original Beverly Hills, 90210 where the "It" entertainer of the moment makes a guest appearance at some VeryImportantSocialEvent (while Gossip Girl employs the same formula, just go with me on this '90s theme). On Friday night, scores of scenesters lined up to drink and dance inside Hayden Planetarium, surrounded by glow-in-the-dark models detailing the birth of the universe and the start of a good time.
Aside from offering a combination disco and cosmic education, One Step Beyond also offers a study in human behavior. Billed as a club-like dance party, OSB has a somewhat nerdier appeal compared to your average Friday night fete. While the venue went out of its way to establish the atmosphere of high end adult party: silhouette of a devoted DJ against a blazing video screen, pulsating house music throughout the room, at times I couldn't help feeling like I was at high school dance. Like most parties, the majority of the crowd didn't show up until halfway through the event, and in the meantime, disjointed cliques ambled awkwardly, gravitating towards the bar while waiting for their wine to kick in, leaving the dance floor sparse. Echoes of junior high rearing its ugly head.
In addition to music and dancing, OSB offers party goers a chance to enjoy some of the museum's more scientific charms. The now-roped off "Hall of Meteorites" is no longer open for after hours perusal (thank you, whoever ruined that for everyone), but Hayden's IMAX theater still offers two showings of 20-minute space odyssey, Cosmic Collisions. While waiting for the energy of the dance floor to gain momentum, you can take some time out to learn about The Big Bang, or just use the opportunity to relax in the dark and grab a quick pre-party nap, make out with your date, or sit back and let Robert Redford's sage narration wash over you as the genesis of a galaxy makes you feel so small.
After a few hours, the soiree began to hit its stride as people shed their inhibitions and the partying pioneers finally hit the dance floor. With the crowd more than ready to receive them, tonight's celebrity guest stars, New York's own Scissor Sisters, (Ana Matronic and Jake Shears), hit the stage at midnight. Attempting to rouse the crowd and distract from a technical difficulty underway, Ana asked, "Do you want to dance your asses off?" The crowd responded in kind: it was clear they'd shown up to do just that. Ana also took a moment to thank former president Theodore Roosevelt, describing him as a man with a mighty mustache and a penchant for jodhpurs (that sounds alarmingly hipster-esque, no?), for his involvement in the museum's flourishing, for without him, we revelers would have had to find some other empty space in which to party.
A small scale mock-up of the moon doubled as a disco ball as the Sisters moved past their snafu and incited a sonic frenzy. '90s-era electronic dance music dominated the set, evoking club days of yore, as lascivious figurines stretched suggestively on the video screen that filled the room with not-so-subliminal messages. The night's peak arrived with a mash-up of Scissor Sisters' stunning "Invisible Light" and Kylie Minogue's earworm "Can't Get You Out of My Head," prompting enthusiastic cheers. When she wasn't doing dance interpretations of song lyrics (Ms. Matronic and I have that move in common), occasionally, Ana stepped out from behind the decks to interact with the audience, commanding them to vogue, and those old enough to remember how to do so followed suit. She and Shears even engaged in a campy and playful dance off at one point.
Their intense hour-long set flew by, and Ana wrapped up the night by thanking the audience for coming out and celebrating with them, as well as out of the closet and out of our mothers, amongst other things. The party continued for a few minutes more, many revelers still caught up in the moment and hesitant to leave the dance floor. But inevitably, it was time to go home, and we left, explorers having discovered an intergalactic groove.
More One Step Beyond party photos after the jump.
Scissor Sisters at OSB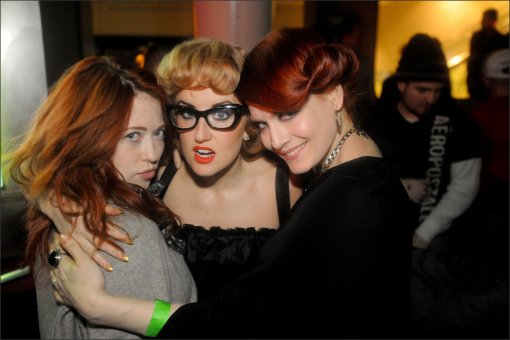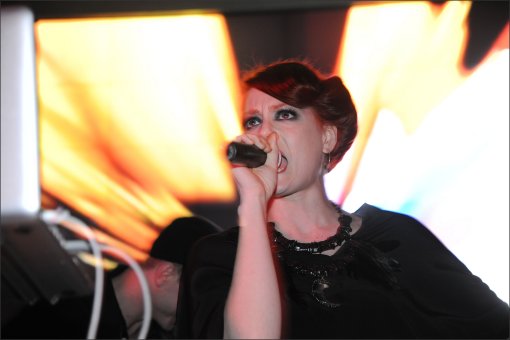 Lauren Flax at OSB