Ricky Gervais and Stephen Merchant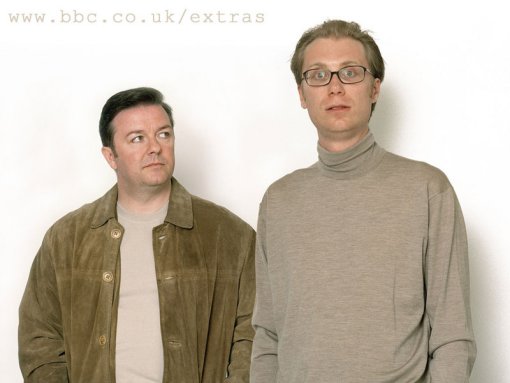 As I suspected, Town Hall isn't the only stop on Stephen Merchant's upcoming comedy tour. In fact, he'll be taking his Hello Ladies… show on the road for 40 UK dates before he arrives in NYC (which is still his only US booking as I write this). Here's a little more info on the tour:
Yes, it's true!

This autumn, Stephen is embarking on his first ever STAND UP COMEDY TOUR

It's called HELLO LADIES . . .

Steve will be travelling all over the UK and finishing off with a show in New York

[UK] Tickets go on sale this FRIDAY 4th MARCH at 9am
…
Says Steve : "Most people don't realise that I was a stand-up comedian before I met Ricky Gervais and his coat-tails. Life can be lonely as a TV writer so this tour is a great opportunity for me to get out there and meet my fans. And make at least one of them my wife."
Also, The Hello Ladies… show will also be filmed as a DVD, to be released by Universal on November 14 (quite possibly in the UK only, though I'm not 100% sure).
Check out a couple of trailers and more Stephen Merchant comedy tour dates after the jump.
Stephen Merchant 2011 Tour Dates
06 Sep 2011 Swindon Wyvern Theatre
07 Sep 2011 Croydon Fairfield Halls
08 Sep 2011 Dorking Halls
09 Sep 2011 Dartford Orchard Theatre
10 Sep 2011 Aylesbury Waterside Theatre
12 Sep 2011 Hastings White Rock Theatre
13 Sep 2011 Reading Hexagon
14 Sep 2011 Southend Cliffs Pavilion
15 Sep 2011 Southend Cliffs Pavilion
16 Sep 2011 St Albans Alban Arena
20 Sep 2011 Margate Winter Gardens
21 Sep 2011 Watford Colosseum
23 Sep 2011 Sheffield City Hall
24 Sep 2011 Sheffield City Hall
25 Sep 2011 Milton Keynes Theatre
28 Sep 2011 Oxford New Theatre
29 Sep 2011 Oxford New Theatre
04 Oct 2011 Liverpool Empire
07 Oct 2011 Glasgow SECC & Clyde Auditorium
11 Oct 2011 Newcastle City Hall
13 Oct 2011 Edinburgh Playhouse
17 Oct 2011 Birmingham Symphony Hall
18 Oct 2011 Birmingham Symphony Hall
20 Oct 2011 Bristol Colston Hall
21 Oct 2011 Bristol Colston Hall
27 Oct 2011 Manchester Apollo
28 Oct 2011 Manchester Apollo
03 Nov 2011 Plymouth Pavilions
05 Nov 2011 Wolverhampton Civic Halls
07 Nov 2011 Nottingham Royal Centre
08 Nov 2011 Coventry Warwick Arts Centre
11 Nov 2011 Cardiff St David's Hall
14 Nov 2011 Leicester De Montfort Hall
17 Nov 2011 Ipswich Regent
19 Nov 2011 Brighton Centre
25 Nov 2011 Bournemouth International Centre
28 Nov 2011 Hammersmith Apollo
29 Nov 2011 Hammersmith Apollo
30 Nov 2011 Hammersmith Apollo
01 Dec 2011 Hammersmith Apollo
20 Dec 2011 Town Hall New York, NY