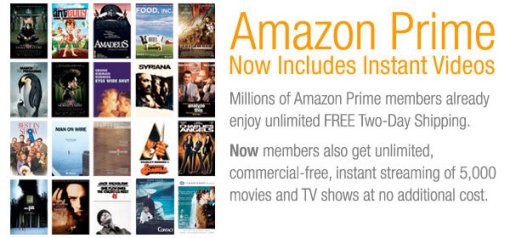 On Tuesday of last week, Amazon.com announced that it would be providing instant streaming services at no additional to all Amazon Prime members. At first blush, this seemed like a pretty awesome benefit, but if you examine the catalog closely, Amazon's streaming offerings are much the same as what Netflix offers to its members. Still, I'm not complaining, I'm a big fan of Amazon VOD (or Amazon Instant Video as it now called) and my Roku.
On a related note, starting on Sunday, March 6, the Kindle 3G will be available at all company owned AT&T Wireless stores for $189 (the same price as Amazon.com). TechCrunch also reports that amazon.com is considering Prime members a free Kindle with the purchase of a membership. As a long time Prime member, all I can is, that would be pretty sweet!
Last but not least, today (Wednesday, March 2), it's widely rumored that Apple will pull back the veil of the latest iteration of its popular iPad device. The event begins at 10AM PST and will be live blogged by Gizmodo, Engadget and TUAW, just to name a few.