IT'S APRIL FOOLS DAY …

So naturally Elvis Costello & The Imposters are doing a special 11:00pm show at the Gramercy Theatre, 127 East 23rd Street, New York, NY!

Because you have been such loyal fans, you'll have first crack at the extremely limited amount of tickets that will be available. Presale tickets will be available today, Friday, March 25th, starting at 1:00pm EST.

https://tixx1.artistarena.com/elviscostello

Username: elvis
Password: costello

If the presale sells out before you are able to get tickets, don't worry, tickets go on sale to the public on Saturday, March 26th, at 10:00am via Ticketmaster.
In other Elvis related news, Season 3 of Live From The Artists Den kicks off on April 1, 2011 on your local public television station and features none other than Elvis Costello and The Sugarcanes performing a National Ransom themed set from the intimate confines of the main branch of the New York Public Library. Other artists playing this season of Live From The Artists Den include: Robert Plant, Ray Lamontagne, Grace Potter, Squeeze, A Fine Frenzy, Daniel Merriweather and Lisa Hannigan. A new soundtrack from Season 3 of Live From the Artists Den is also now available for pre-order on iTunes, see the full track listing after the jump.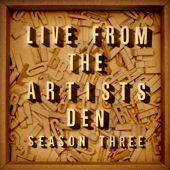 Live From the Artists Den Season 3
1 Blame It On Cain – Elvis Costello & The Sugarcanes
2 Beg Steal Or Borrow – Ray Lamontagne & The Pariah Dogs
3 Paris (Ooh La La) – Grace Potter & The Nocturnals
4 House of Cards – Robert Plant & The Band of Joy
5 If I Didn't Love You – Squeeze
6 Somewhere Trouble Don't Go – Buddy Miller & The Band of Joy
7 Red – Daniel Merriweather
8 If Tonight Is My Last – Laura Izibor
9 Today – Joshua Radin
10 Listen To The Dark Side – Charlie Mars