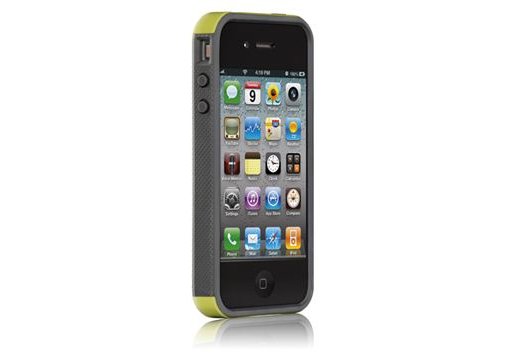 Hey, it's been a while since I've given anything away here and I figured an iPhone 4 case is as good a way as any to get back on that horse. If you were at SXSW, you might have been handed an iPhone case such as this on the street, but if you weren't in Austin and you're one of the tens of millions of iPhone 4 users out there, I figure you might want a free case. It's the iPhone 4 Pop! Case from Case-Mate in green and cool grey and it looks pretty much exactly like the photo above (phone not included). Here's a little more about this protective iPhone accessory from the manufacturers site:
Co-molded materials of plastic and soft rubber unite to create a hard case with a soft touch. The lightweight plastic body of the Pop! protects from unforeseeable impacts, while keeping your screen lifted away from surfaces. The Pop! features contemporary color pairings to create a modern look for your iPhone. Rubber sides make for an easy grip. Inside, the soft material hugs your iPhone like a glove. Not even Batman and Robin are that tight.

• Co-molding of lightweight plastic and soft rubber for a seamless protective case
• Form fit feature covers back and corners
• Protective lay flat design keeps your screen from hitting surfaces when device is placed on its face
• Impact resistant, flexible plastic shell
• Access to all ports and functions [Case-Mate.com]
If you'd like this bad boy to be your very own, you can fill out the contest entry form after the jump. Contest ends on Friday, April 1 at midnight, 1 entry per household, US residents only please. Good luck folks!