Maps and Atlases at Filter's Culture Collide Party at SXSW (03/18/11)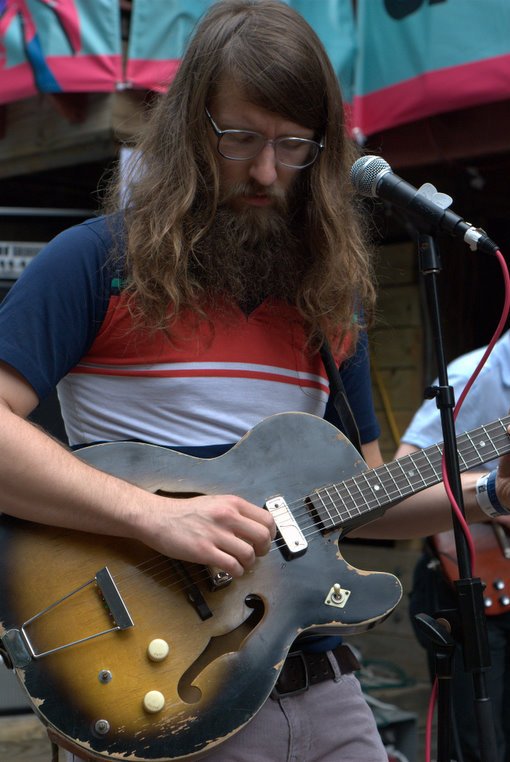 Photo: D. Caplan
Having missed them last time they played NYC, I was lucky enough to catch Maps and Atlases at the Filter Culture Collide party during SXSW 2011. Since the release of 2010's excellent Perch Patchwork the band has been keeping themselves busy on the road and most recently with the release of a new EP, entitled Living Decorations. The Living Decorations EP includes:
…new remixes and live tracks not previously released on Perch Patchwork, including remixes by Andy Monaghan of Frightened Rabbit, Josh Morrissey and Friendly Ghost as well as a live version of the Perch Patchwork favorite "Solid Ground" recorded live at Electraplay Studios in Columbus, OH.
They'll be in town on Tuesday night (April 19) for a one night stand at the Bowery Ballroom (Buy Tickets), so if you're not attending the second seder, I suggest you check them out.
Video for "Living Decorations", EP track listing, tour dates and more photos from SXSW after the jump.
Maps and Atlases 2011 Tour Dates
Apr 19 New York, NY Bowery Ballroom
Apr 20 Philadelphia, PA First Unitarian Church
Apr 21 Washington, DC Rock & Roll Hotel
Apr 22 Harrisonburg, VA Clementine Cafe
Living Decorations EP Tracklisting:
1. Living Decorations
2. Solid Ground (Live At Electraplay)
3. Pigeon (Andreas Lust Remix)
4. Living Decorations (Friendly Ghost Remix)
5. Perch Patchwork (Josh Morrissey Remix)
Maps and Atlases at SXSW 2011