While Drake's up at The Gorge, I thought I'd play a little catch up with his new release column. -ed.
Drake's Take: New Releases 05.17.11
It's not the greatest crop of releases this week, but it's worth sniffing the latest collaboration from Danger Mouse (with Daniele Luppi), 13 & God, Damon & Naomi, Chad VanGaalen, The Elected Mai Doi Todd, Moby, NRBQ and a slew of remastered reissues from Nick Cave & the Bad Seeds.
Playlist: New Releases 05.17.11
---
Danger Mouse & Daniele Luppi – ROME
Stream / Purchase [mp3]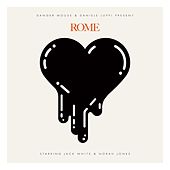 Brian Burton, aka Danger Mouse, has always worn his love of Spaghetti Western soundtrack master Ennio Morricone and in Italian film composer Daniele Luppi, he's found his equal in Morricone obsession. But far from just a tribute to their hero, Barton & Luppi have guest vocalists Jack White and Norah Jones to add some flesh to the skeleton of slinky instrumentation.
---
---
More on the radar (and in the mp3 player) this week:
Damon & Naomi – False Beats and True Hearts / "Shadow Boxing" [m4a]
Chad VanGaalen – Diaper Island / "Sara" [mp3]
The Elected – Bury Me in My Rings
Mia Doi Todd – Cosmic Ocean Ship
Moby – Destroyed
NRBQ – Keep this Love Goin'
Glasvegas – Euphoric /// Heartbreak \\\
Levon Helm – Ramble at the Ryman
Face to Face – Laugh Now, Laugh Later
Ben Harper – Give Till It's Gone
Dylan Champagne – Love Songs of the Apocalypse, Vol. 1
Bahamas – Pink Strat
Cat's Eyes – Cat's Eyes
REISSUES
Nick Cave & the Bad Seeds – Let Love In (2011 Remaster)
Nick Cave & the Bad Seeds – Murder Ballads (2011 Remaster)
Nick Cave & the Bad Seeds – The Boatman's Call (2011 Remaster)
Nick Cave & the Bad Seeds – No More Shall We Part (2011 Remaster)
The Go Go's – Our Lips Are Sealed (30th Anniversary Deluxe Edition – 2011 Remaster)