88Boadrum at East River State Park (08/08/08)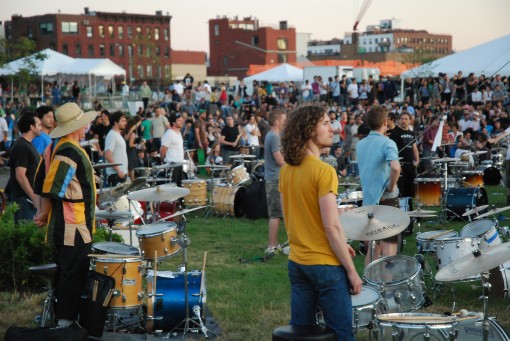 Photo: D. Caplan (more)
It appears that Asser Levy Park isn't the only controversial Brooklyn summer concert venue this year, there's a big article in today's (May 29) NYTimes which sheds some light on the rising neighborhood tensions surrounding the annual Williamsburg Waterfront concerts.
In Williamsburg the concerts, which are scheduled to begin on June 11, have added to a conflict that has escalated since the city rezoned the waterfront for high-end development in 2005.

This season, some residents are pushing back. At fractious community board meetings in April and May, residents called first for a moratorium on new liquor licenses in the neighborhood and then for severe restrictions on the concert series, arguing passionately for a return to the quiet, sober Williamsburg that perhaps never was.
…
This year the promoters agreed to limit the concerts to 15, with no weekend shows in July and August, and to begin the sound checks at noon. Five of the concerts will be free, including four that are intended to be quiet: two children's shows, a comedy performance and a classical concert.

Proponents of the concerts maintain that a little noise is a necessary tradeoff for raising money for the parks, especially as the state and the city are looking to cut spending. In two years, the concerts have generated $290,000 for the state park and $138,000 for city parks, according to the alliance's reports. [NYTimes.com]
So, according to this article, the only FREE "rock" concert this summer will be the Coheed and Cambria show on June 11. Two more children's shows and a classical concert have yet to be announced; the aforementioned "comedy show" will take place July 29 with TMBG and Pretty Good Friends. There are still seven more concerts which not yet been announced, you can view the entire Williamsburg Waterfront schedule (as it now stands) over here.