Eleanor Friedberger at 4Knots Fest (07/16/11)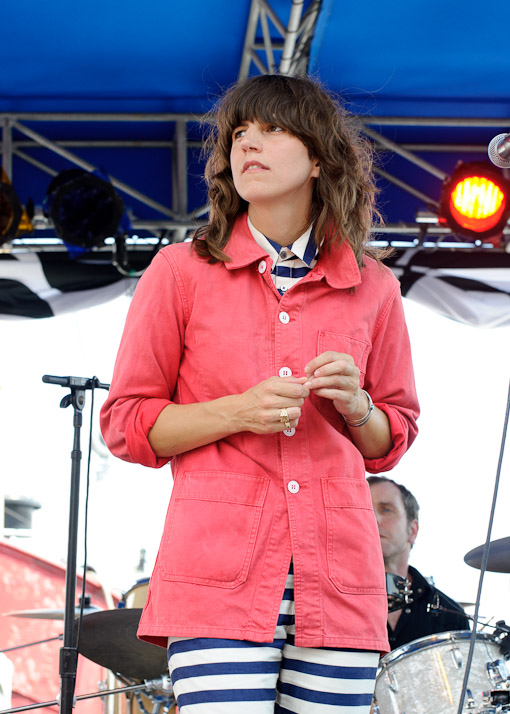 Photo: Jon Klemm
Eleanor Friedberger (1/2 of the brother-sister duo, The Fiery Furnaces) helped kick off this year's 4Knots Music Festival with a set of (mostly) all new material in support of her recently released solo album, Last Summer.
Throughout the set her voice was clear and music bouncy, a sonic breeze that almost seemed able to cool down all of us standing in the hot summer sun. Working against the clock, she attempted to say goodbye by performing three songs in her last seven minutes onstage. Midway through the second, "Inn of the Seventh Ray," it became clear that a buzzer-beater of a finisher would be needed, and the final tune—fittingly, The Fiery Furnaces' "Tropical Ice-Land"—came through. [blogs.villagevoice.com]
Eleanor's initial tour in support of Last Summer has come to a close, but she just announced an additional set of dates in early September opening for The Kills on the west coast, as well as a two-week tour of the east and south in October with fellow Merge artists Wild Flag. Before all of that happens, however, you can catch Eleanor opening for Deerhunter at Webster Hall on August 22 and 23 (Buy Tickets).
More tour dates and pictures of Eleanor Friedberger from 4Knots Fest after the jump.
Eleanor Friedberger 2011 Fall Tour
22 Aug New York, NY – Webster Hall w/ Deerhunter
23 Aug New York, NY – Webster Hall w/ Deerhunter
05 Sep Vancouver, BC – Commodore Ballroom *
07 Sep Portland, OR – Crystal Ballroom *
09 Sep Oakland, CA – Fox Theater *
10 Sep Los Angeles, CA – Wiltern Theatre *
11 Sep San Diego, CA – House of Blues *
22 Sep Nashville, TN – Live on the Green @ Public Square Park
14 Oct Boston, MA – Paradise Rock Club #
16 Oct Hoboken, NJ – Maxwell's #
18 Oct New York, NY – Bowery Ballroom #
19 Oct Philadelphia, PA – Union Transfer #
20 Oct Washington, DC – Black Cat #
21 Oct Carrboro, NC – Cat's Cradle #
22 Oct Athens, GA – 40 Watt Club #
24 Oct Birmingham, AL – Bottletree #
26 Oct New Orleans, LA – One Eyed Jacks #
27 Oct Oxford, MS – Proud Larry's
28 Oct St. Louis, MO – The Luminary Center for the Arts
29 Oct Chicago, IL – Subterranean
30 Oct Cleveland Heights, OH – Grog Shop
* – w/ The Kills
# – w/ Wild Flag
Eleanor Friedberger by Jon Klemm