Escape To New York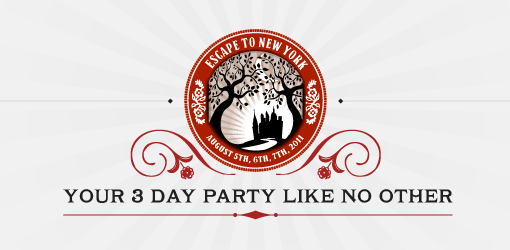 Unfortunately (for the few folks that had tickets) the first annual Music To Know festival in Southampton (Aug 13-14) has been cancelled. In a gesture of "good faith", the first annual Escape To New York festival, being held this weekend (Aug 5-7) in the Hamptons, is offering all MTK ticketholders free entry to the festival on Saturday and Sunday.
August 6th, 2011, Southampton, NY – All of us here at Escape to New York are sad to hear that the Music to Know festival, originally scheduled for August 13th and 14th at the Easthampton Airport, has been cancelled. In the spirit of summer love, the Escape to New York festival taking place this weekend, August 5th through 7th on the Shinnecock Reservation in Southampton, New York will be granting entry to Music to Know ticket holders today, Saturday, August 6th and tomorrow Sunday, August 7 by simply showing proof of purchase.

For Escape to New York directions and information: http://www.escape2ny.com/info/need-to-know
So while this may be a disappointment for MTK ticket holders (which had the stronger of the lineups in my opinion), it could be a boon for New Yorkers who are going to be around next weekend. Surely, headliners like Vampire Weekend and Bright Eyes could easily sell out a last minute show at Terminal 5 or somewhere even better (i.e. smaller). Stay tuned to this space, we'll see what happens.
UPDATE (08/07/11): Escape To New York cancelled the Sunday portion of their festival due to "inclement weather." So much for summer festivals in the Hamptons.
August 7th, 2011, Southampton, NY – In light of heavy overnight and morning rainfall, impending inclement weather, safety concerns and potential damage to The Shinnecock Indian Nation's Reservation, Escape to New York has cancelled Sunday, the last day of the festival.