Fanfarlo at The Bell House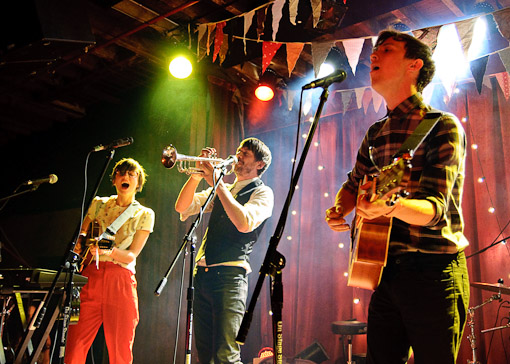 Photo: Jon Klemm (more)
Download: "Replicate" – Fanfarlo (mp3)
Good news from one of my favourite bands.
Dear all,

Almost exactly a year ago we stopped touring and sat down to write a new record. Earlier this year we went to a remote slate quarrying town in Northern Wales to record it and now we finally have the finished result in our hands.

There is so much we want to show you! It was hard to decide where to start, but we decided to start at the beginning. So here is the first song from our new album — it's called 'Replicate'. Over the summer there were so many visual ideas we wanted to incorporate in presenting this music to you, both on your screens and live, coming to play in your city. The first puzzle piece is this video we made in collaboration with Alex Southam:

But that's not all. We also have a small number of shows scheduled which we are terribly excited about. Simply cannot wait to play you all the new music. And of course, coming to the shows is the only way of hearing it. [Fanfarlo]
View all upcoming Fanfarlo tour dates and the official video for "Replicate" after the jump. Tickets for their Oct 27 show at the Mercury Lounge go on sale today (09/09) at noon (I suspect they will sell quickly). If you are so inclined, you can buy a limited edition Fanfarlo t-shirt and ticket bundle for the Merc show over here.
Fanfarlo

Fanfarlo 2011 Tour Dates
Sep 30 London, Hoxton Hall
Oct 25 Boston, Brighton Music Hall
Oct 27 New York, Mercury Lounge
Oct 29 Washington DC, Red Palace
Oct 30 Brooklyn, Glasslands
Nov 01 Philadelphia, Johnny Brendas
Nov 13 Tenerife, Auditorium
Nob 15 Madrid, Heineken Music Selector
Nov 16 Barcelona, Bikini
Nov 18 Toledo, Heineken Music Selector – Circulo de Arte
Nov 19 Cadiz, Heineken Music Selector – Sala Imagina