Zola Jesus at Le Poisson Rouge (10/19/11)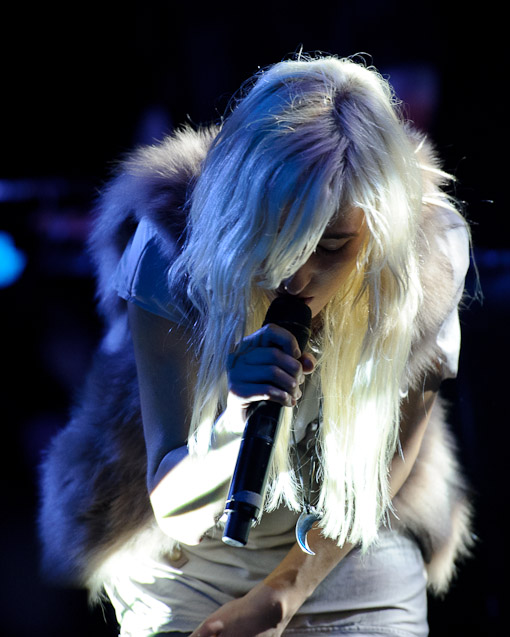 Photo: Jon Klemm
Hot on the heels of her just released album Conatus, Nika Danilova, aka Zola Jesus took CMJ by storm with three shows in just 24 hours. Jon and I caught up with her on CMJ Wednesday (Oct 19) at Le Poisson Rouge, here's what WSJ rock critic Jim Fusilli had to say about that night:
Danilova is a powerful performer with a strong voice that raises thoughts of Kate Bush and Beth Gibbons. On stage, she seems to capture the vigor of the band and project it to the audience, which, at the Bleecker Street club, circled the stage. Zola Jesus leaned heavily on its new disk "Conatus" (Sacred Bones). Danilova called the new music "more introspective" than the band's earlier works. And so it is: When Zola Jesus was at its loudest last night, the music never lost its reflective edge. Prior to the set, Danilova said her energy is no longer spent in musical versions of angry screeds. She's learned to communicate by beckoning the audience through dynamics and tempo. In one song early in the set, the voices of a male choir rose from the wash of synths, adding warmth and texture to Danilova's vocal performance. [blogs.wsj.com]
If that sounds like something you would like to see and hear more of, you can check out NPR Music's video of Zola Jesus live at LPR which is archived over here. Tour dates, FADER cover shot, and more photos of Zola Jesus from Le Poisson Rouge after the jump.
Zola Jesus on The FADER (Fall 2011)

Zola Jesus 2011 US Tour Dates
10.25.11 Atlanta The Earl
10.26.11 New Orleans Siberia
10.28.11 Denton Dan's Silverleaf
10.29.11 Austin Mohawk
10.31.11 Los Angeles Echoplex
11.01.11 San Francisco The Independent
Zola Jesus 2011 European Tour Dates
11.15.11 Istanbul Babylon Club Turkey
11.17.11 Koln Stad Garden Germany
11.18.11 Haideburg Karstelbahnhoff Germany
11.19.11 Munich Orangehouse Germany
11.20.11 Frankfurt Am Main Sinkkasten Germany
11.23.11 London Heaven, Under the Arches United Kingdom
11.24.11 Manchester Manchester Academy 3 United Kingdom
11.25.11 Liverpool Karizmir United Kingdom
11.26.11 Amsterdam Le Guess Who Festival Netherlands
11.28.11 Brussels Rotonde (Botanique) Belgium
11.29.11 Paris Divan du Monde France
11.30.11 Luxembourg Rock Hall Luxembourg
12.01.11 Leipzig UT Connewitz Germany
12.02.11 Warsaw Soho Factory – Electronic Beats Poland
12.04.11 Prague Meet Factory Czech Republic
12.05.11 Zurich Papiersaal Switzerland
12.06.11 Milan Magnolia Italy
12.07.11 Bologna Covo Italy
12.08.11 Rome Circolo degli Artisti Italy
12.09.11 Pisa New Carocol Italy
Zola Jesus at Le Poisson Rouge by Jon Klemm