Gillian Welch at the Beacon Theatre (10/22/11)


Photo: Geoff Green
Gillian Welch and her musical partner in crime David Rawlings recently played the Beacon Theatre in support of Gillian's (long awaited) new record, The Harrow and The Harvest. In case you haven't heard the #1 album on Amazon.com's Folk charts (and it came out in June), here's a little a bit of what you're missing:
"Yes, Tennessee figures rather prominently in the new songs," says Gillian. The record, however, has little of the sweet sunny south; in fact, there's a real dark pallor to the thing – and the language in the songs seems to recall the shady groves of Tennessee far more than anything that the duet has done in recent memory. "The truth is, we absented ourselves from Nashville for a while, to escape the weight of home and studio and record label. But I think our thoughts turned back there with a newness and clarity I hadn't felt since I moved there almost 20 years ago."

And the record they've made, tonally, is a new Southern sound, with the sort of songs you wouldn't be surprised to hear issuing from some verdant, wooded hollow in Appalachia; the sort of songs you'd expect to be sung to soothe unquiet babies. Songs you'd expect to hear hollered from an Asheville grange hall, all too late in the evening. Songs with the wry humor of the back porch. "Dave says this record is 'ten different kinds of sad', but it's not without humor. I feel like there's a maturity in it and a sense of place that only comes with time." Gillian continues, "We feel at home in the folk tradition, and using its language combined with our own." "That's the whole point of the folk tradition," laughs Dave. [Press Release]
Gillian and David are currently on tour in Europe, but will return to the US for some more dates before the year is out. All tour dates and more pictures of Gillian Welch and David Rawlings from the Beacon Theatre after the jump.
Gillian Welch Tour Dates
Fri 11/04/11 Copenhagen, Denmark Royal Theatre
Sun 11/06/11 Cologne, Germany Stadtgarten
Mon 11/07/11 Amsterdam, Netherlands Paradiso
Tue 11/08/11 Antwerp, Belgium Arenbergschouwburg
Wed 11/09/11 Paris, France La Maroquinerie
Sat 11/12/11 Brighton, United Kingdom Brighton Dome
Sun 11/13/11 Coventry, United Kingdom Warwick Arts Centre
Thu 11/17/11 Dublin, Ireland Grand Canal Theatre
Fri 11/18/11 Belfast, United Kingdom Belfast Waterfront
Sun 11/20/11 Glasgow, United Kingdom Clyde Auditorium
Mon 11/21/11 Manchester, United Kingdom O2 Apollo Manchester
Wed 11/23/11 London, United Kingdom HMV Hammersmith Apollo
Sat 11/26/11 Portsmouth, NH The Music Hall
Sun 11/27/11 Portland, ME State Theatre
Mon 11/28/11 Northampton, MA Calvin Theater
Thu 12/01/11 Nashville, TN Ryman Auditorium
Gillian Welch and David Rawlings at The Beacon Theatre by Geoff Green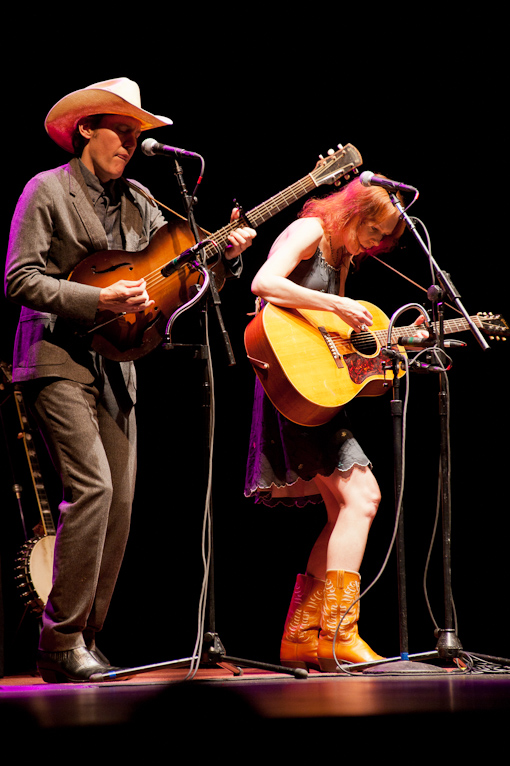 The Decemberists / Gillian Welch on Austin City Limits