Zambri at Cake Shop (10/22/11)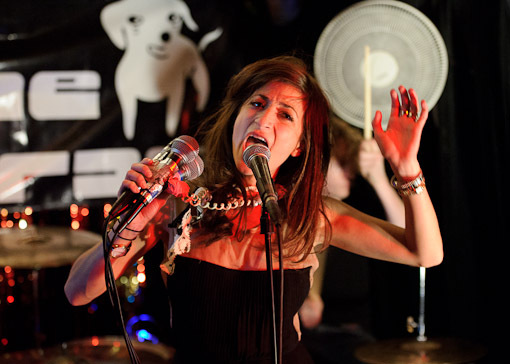 Photo: Jon Klemm
On November 8, 2011, Kanine Records, the local label with a keen eye for talent, will be releasing Glossolalia, the debut EP from sisters Cristi Jo and Jessica Zambri, otherwise known as Zambri. Tonight (Nov 3), Zambri will be playing their official record release show at Glasslands Gallery with Beige, Maribu Stork (Noel from Hooray for Earth) and Autre Ne Veut (Buy Tickets). For those of you curious about the sibling pop duo, here's a little more about the band from their press materials:
Zambri mixes experimental beats and dueling female vocals with captivating melodies to create unromantic love songs. Filled with gothic and avant-garde pop vocals, the songs might sound familiar, like a lost Siouxsie and the Banshees or Kate Bush classic, but they manage to bring it to an altogether new place. As if remixed by Gang Gang Dance, Zambri lands perfectly amid contemporaries Health, Grimes, Lykke Li, and The Knife.

As sisters, Cristi Jo and Jessica have been creating music together since they were children, always using the Zambri name for several incarnations of recording projects. Glossolalia is the first release they consider all their own, doing things how they want, just the two of them. Most of the sounds on the EP are homemade, many of which are built from vocals, which is perhaps what inspired the title. Glossolalia refers to speaking in tongues; it is a mystical language. They met a like-minded friend in preeminent indie producer Chris Coady, who handpicked Zambri as one of his favorite upcoming New York bands. While Coady scores production credits on "To Keep Back" and "News", Noel Heroux (Hooray For Earth) lends a hand with mixing "On Call" and "On Call (biddibiddi)". [kaninerecords.com]
Flyer for tonight's show and more pictures of Zambri from CMJ after the jump.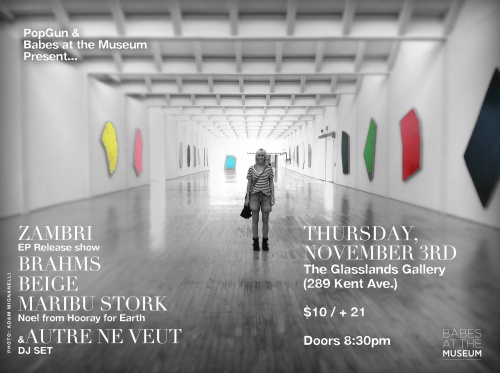 Zambri at CMJ by Jon Klemm