Poliça at CMJ 2011 (10/21/11)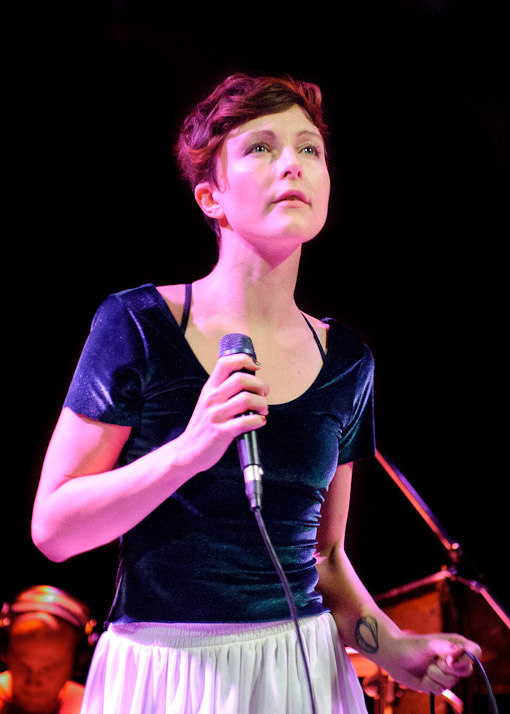 Photo: Jon Klemm
Poliça, a new non-Justin Vernon centered side-project of Gayngs and Bon Iver, have just announced that their debut album, Give You The Ghost, will be released on February 14, 2012. No NYC tour dates have been scheduled as of yet, but I would expect that to change in the near future. For the uninitiated, here's a little more about the band:
After collaborating in the studio and live on their most recent project (GAYNGS), it became apparent to vocalist Channy Leaneagh (formerly Casselle) and producer Ryan Olson that they should form a collective of their own. Olson's pop sensibilities and electronic adventurism would prove to be the perfect vehicle for Channy's recent evolution from a roots-folk band vocalist to a R&B-bred performer. Thus, Poliça was born.

In June of 2011 the two began writing the songs that make up Poliça's debut, Give You The Ghost. Inititally the tracks were arranged with Olson's beats and sequences, leaving room for Channy to apply her dynamic experimentation. Playing with vocal processing and synthesized textures, her additions fit perfectly into the lush, electronic sound-scape of Olson's arrangements.

By July, the pair had completed 11 songs and enlisted the talents of drummers Ben Ivascu and Drew Christopherson and bass player Chris Bierdan. With these key additions they headed into the studio, bringing Mike Noyce (Bon Iver) to add his vocals on "Lay Your Cards Out" and "Wandering Star". To round it all out, the album was brought to Austin, TX, where it was mixed with Jim Eno (Spoon).
Cover art, track listing for Give You The Ghost, scattered tour dates and more pictures of Poliça from CMJ 2011 after the jump.
Poliça – Give You The Ghost

Give You The Ghost Track Listing
1. Amongster
2. I See My Mother
3. Violent Games
4. Dark Star
5. Form
6. The Maker
7. Lay Your Cards Out (feat. Mike Noyce)
8. Fist, Teeth, Money
9. Happy Be Fine
10. Wandering Star (feat. Mike Noyce)
11. Leading to Death
Polica 2011-2012 Tour Dates
12/04 Minneapolis, MN First Avenue w/ Foster The People SOLD OUT
12/07 Minneapolis, MN 7th St. Entry w/ Doomtree Blowout SOLD OUT
12/09 St. Paul, MN Turf Club w/ Solid Gold
02/14 Minneapolis, MN First Avenue Mainroom Record Release Show
Poliça at CMJ 2011 by Jon Klemm