HBO's Luck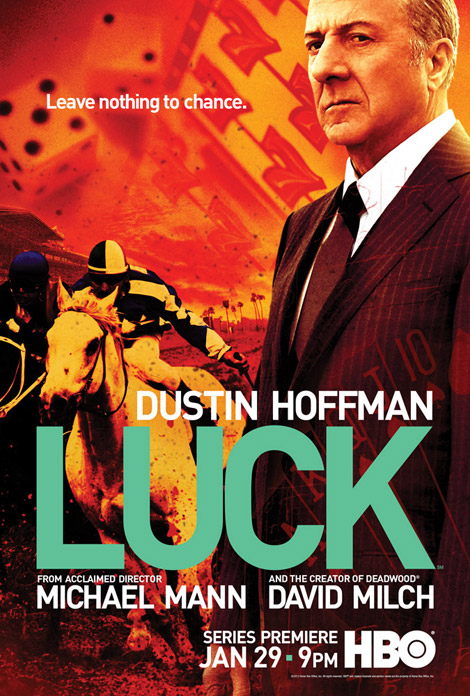 Well, it's a new year and that can only mean one thing, it's time for me to sit back on my ass and watch some new shows. While television's mid-season offerings often lack some of the pomp and circumstance associated with the fall series premieres, at first blush, this year's crop of new winter shows (and returning series') look as if they have a lot to offer. Here's a look at some of what I'm looking forward to watching, recording, renting and/or streaming in the upcoming Winter – Spring 2012 TV season.
2012 Winter/Fall Most Interesting TV Shows (that I know of so far)
HBO
On Freddie Roach (Jan 20)
Luck w/ Dustin Hoffman (Jan 29)
Life's Too Short w/ Ricky Gervais and Stephen Merchant (Feb 19)
Eastbound and Down Season 3 (Feb 19)
Girls (Apr 2012)
Game of Thrones Season 2 (Spring/April 2012)
The Newsroom w/ Jeff Daniels and Aaron Sorkin (2012 TBD)
Veep w/Armando Ianucci and Julia Louis-Dreyfus (TBD)
ABC
Wipeout (Jan 5)
The River (Feb 7)
GCB (Mar 4)
Don't Trust the Bitch in Apartment 23 (TBD)
Adult Swim
Delocated Season 3 (Feb 2)
Eagleheart Season 2 (Mar 15)
AMC
Mad Men (Early 2012)
The Walking Dead Season 2.5 (Feb 12)
Comic Book Men w/ Kevin Smith (Feb 12)
The Killing Season 2 (Spring 2012)
BBC America
The Hour Season 2 (TBD)
Luther Season 3 (TBD)
Fox
Napoleon Dynamite (Jan 15)
Alcatraz (Jan 16)
Bob's Burgers Season 2 (Mar 11)
Touch w/Tim Kring and Keifer Sutherland (Preview Jan 25, Premieres Mar 19)
FX
Justified Season 3 (Jan 17)
Unsupervised w/ Fred Armisen (Jan 19)
Archer Season 3 (Jan 19)
Anger Management w/ Charlie Sheen (Early 2012)
Wilfred Season 2 (2012 TBD)
Louie Season 3 (2012 TBD)
Powers (2012 TBD)
IFC
Portlandia Season 2 (Jan 6)
Increasingly Poor Decisions of Todd Margaret Season 2 (Jan 6)
NBC
The Firm (Jan 8)
Smash (Feb 6)
Awake w/ Jason Isaacs (TBD)
Lifetime
Project Runway All Stars (Jan 5)
Netflix
Lilyhammer w/ Steven Van Zandt (Feb 2012)
House of Cards w/ David Fincher and Kevin Spacey (Late 2012)
Arrested Development (2013)
Downton Abbey

PBS
Downton Abbey Season 2 (Jan 8)
Showtime
House of Lies w/ Don Cheadle (Jan 8)
Shameless Season 2 (Jan 8)
The Big C Season 3 (TBD 2012)
Nurse Jackie Season 4 (TBD 2012)
Starz
Spartacus: Vengeance (Jan 27)
Magic City (TBD)
Syfy
Being Human Season 2 (Jan 16)
New and upcoming TV on DVD releases, the first episode of Portlandia Season 2 and trailers for Luck, Magic City, Comic Book Men, Awake and Lilyhammer after the jump.
PS Special thanks to Drake, Jono, Robert Jaimes, Brad Mislow and David Bianculli for helping out with this post.
2012 New and Upcoming TV on DVD Releases
HBO
Mildred Pierce (Jan 3, 2012)
Boardwalk Empire Season 1 DVD (Jan 10, 2012)
Game of Thrones Season 1 (Mar 6, 2012)
Curb Your Enthusiasm Season 8 DVD (Pre-order)
BBC-A
The Hour Season 1 (Watch It Now)
Downton Abbey Season 1 (Available Now)
Downton Abbey Season 2 (Feb 7, 2012)
FX
Justified Season 2 (Jan 3, 2012)
Louie Season 2 (Watch It Now)
Wilfred Season 1 (Watch It Now)
Showtime
Shameless Season 1 (Dec 27, 2011)
Nurse Jackie Season 3 (Feb 21, 2012)
The Big C Season 2 (Pre-order)
Sneak Preview of Portlandia Season 2: One Moore Episode

TV Trailers